Whitney Center Concert Hall renamed Kinnison Hall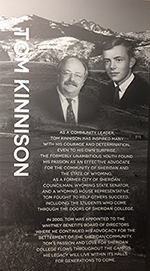 On September 20, 2018, the Concert Hall in Whitney Center for the Arts was renamed Kinnison Hall, honoring Tom Kinnison who recently passed away after a battle with cancer. Tom, a Sheridan College alum, had worked tirelessly to help fund many projects at Sheridan College and in the community. A small dedication ceremony was held and a mural of Tom was unveiled at the entrance to Kinnison Hall.
Click Here to read the Sheridan Press article about the dedication.