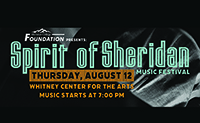 Join us for the Spirit of Sheridan Music Festival August 12, 2021! Click Here for the flyer…
Proceeds will fund music scholarships at Sheridan College. Double your impact – all ticket sales and donations to the Spirit of Sheridan Music Festival will be matched by the Witzel Family Foundation – up to $5,000…Come have fun and help our music students at the same time! To donate please visit sheridancollegefoundation.org/giving/donate
For tickets please visit www.sheridan.edu/arts or call 307-675-0360
________________________________________________________________________
The Eric Richards Big Band Summer Swing '21 – Featuring Sheridan's own Alycia Duprey!
Sponsored by the John B. and Dorothy D. Duncan Foundation
Click Here for flyer.
On Friday, July 30, 2021 @ 7pm in the Whitney Center for the Arts – Kinnison Hall
* Big Band Swing, Ballads, Sambas, Funk, and more
* New treatments of the Great American Songbook (George Gershwin, Billy Joel, and Ella Fitzgerald)
* Tributes to jazz masters Chick Corea and Sammy Nestico
* New music by Scott Jeppesen, Ben Markley, and Eric Richards
On Saturday, July 31, 2021 @ 7pm in Whitney Commons Park – Gazebo
* MOONLIGHT SWING! Outdoor Big Band Dance
We're especially excited to present an outdoor big band dance for our Sheridan community at the Gazebo in Whitney Commons Park. Bring a blanket or chairs and enjoy some excellent traditional big band swing music. Feel free to show off your best jitterbug and foxtrot steps if you care to dance!
Both events are FREE and OPEN to the public!
For more information, contact Eric Richards (erichards@sheridan.edu, 307-675-0733)
______________________________________________________________________________
Music Technology Camp July 26-30, 2021
Sheridan College, in partnership with the Witzel Family Foundation, will host a music technology summer camp July 26 through July 30, 2021 designed for 14 to 18-year-old students with an interest in music production, recording audio and using technology to create music. The camp runs from 8:30 a.m. to 5 p.m. each day and costs $300 if registration is complete by June 1 and $400 from June 2 onward. Click here for more information.
______________________________________________________________________________
Thickman Faculty Lecture
The Arrival: Motherhood and Art presented by Brittney Denham-Whisonant
Click Here for flyer.
When: Thursday, March 11, 2021
Time: 7 pm
Zoom Webinar at www.sheridan.edu/lectures
For more information contact Sheridan College Foundation at 307-675-0700.
This lecture series is funded by the Thickman Lecture Endowment
______________________________________________________________________________
Thickman Faculty Lecture
From Many Came Few – Humanity's Rise presented by Bjarne Kristiansen
Click Here for flyer.
When: Thursday, November 5, 2020
Time: 7 pm
Zoom Webinar at www.sheridan.edu/lectures
For more information contact Sheridan College Foundation at 307-675-0700.
This lecture series is funded by the Thickman Lecture Endowment

If you were unable to view this lecture, it has been recorded and is available to view on Youtube.
Sheridan College Thickman Faculty Lecture Series: From Many Came Few – Humanity's Rise – YouTube
---
Thickman Faculty Lecture
Understanding the Electoral College presented by Michael Thomas
Click Here for flyer.
When: Thursday, October 22, 2020
Time: 7 pm
Zoom Webinar at www.sheridan.edu/lectures
For more information contact Sheridan College Foundation at 307-675-0700.
This lecture series is funded by the Thickman Lecture Endowment
If you were unable to view this lecture, it has been recorded and is available to view on Youtube.https://youtu.be/cyvSSnyBRnA