Thickman Lecture: Creativity in Captivity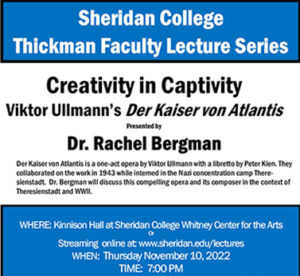 Dr. Rachel Bergman, Director of Academic Initiatives and Arts Outreach and Director of the Sheridan College Flute Choir will present a lecture titled "Creativity in Captivity: Viktor Ullmann's Der Kaiser von Atlantis" on Thursday, Nov. 10 at 7 p.m. in Kinnison Hall at the Whitney Center for the Arts at Sheridan College. After the lecture, refreshments will be available. This event is free and open to the public. Click Here for flyer..
Bergman will present a brief biographical sketch of composer Viktor Ullmann (1898-1944), including his important works and influences. She will discuss his time spent in the Nazi concentration camp Theresienstadt during WWII with an overview of life and creative activities in the camp. Finally, she will present the story, characters, and music of "Der Kaiser von Atlantis," the one-act opera Ullmann wrote while interned in Theresienstadt.
Dr. Bergman's research focuses on the music of Viktor Ullmann, an Austro-Hungarian composer who was killed in the Holocaust. Dr. Bergman's publications include a book chapter in Singing in Signs: New Semiotic Explorations of Opera (Oxford University Press, 2020) and articles and reviews in The Opera Journal and Gamut: Online Journal of the Music Theory Society of the Mid-Atlantic. She has presented papers and lecture-recitals at numerous conferences regionally, nationally, and internationally. Prior to coming to Sheridan College, Dr. Bergman served as tenured Associate Professor of Music Theory and Director of Graduate Studies for the School of Music at George Mason University in Fairfax, Virginia. She earned a PhD in Music Theory from Yale University and a BA in Music and Mathematics from Skidmore College.
The Thickman Faculty Lecture Series is hosted by the Sheridan College Foundation and is funded by the Thickman Lecture Endowment.
Sheridan College is located at 1 Whitney Way in Sheridan. For more information about this or upcoming lectures, contact the Sheridan College Foundation at 307-675-0700.