Thank you letter from scholarship recipient Brittney Steele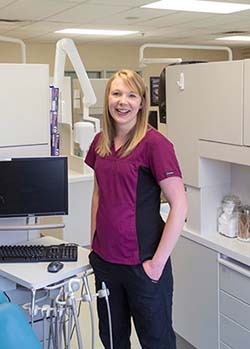 It is a true honor to be awarded this scholarship and I am deeply thankful for the trust and support you have for my academic passions. Thank you all for continually supporting students! The trust and belief you have in students is empowering and I am deeply thankful to now be a recipient of this empowerment. Thank you!
I absolutely love the Dental Hygiene program.  Passionate, describes my feelings towards the public's oral health, and through this program I have learned so much, making me even more passionate about my career. My instructors do a fabulous job of preparing us for the future and helping us in constructive ways during the journey.
This award has helped alleviate stress of the Dental Hygiene program's financial burdens. Through my SC education, I have learned so much, built life-long friendships, and enjoyed the opportunity to engage with both the Sheridan city and campus communities.
Thank you for helping expand my horizons, for providing this scholarship, changing my life for the better, and for helping others who are seeking further education.
With deep gratitude, Brittney Steele
Brittney has been named the 2017 Wyoming New Century Scholar! She achieved the state's highest score in the All-USA Community College Academic Team competition. Judges consider academic accomplishments, leadership, activities and most importantly, how students extend their intellectual talents beyond the classroom. New Century Scholars are the highest scoring students in each state.