Sheridan College student one of 10 in the nation selected for Cyber Security Internship
May 28, 2019 – Aaron Baker, a student at Sheridan College, will attend a 10-week paid cyber security internship at Dakota State University in Madison, S.D., for the next 10 weeks. Baker was one of just 10 students in the United States selected for the prestigious internship where he will work with DSU faculty on so-called internet of things research. Funded by the National Science Foundation, the Research Experiences for Undergraduates program provides undergraduate students with front-line cybersecurity research experiences in IoT.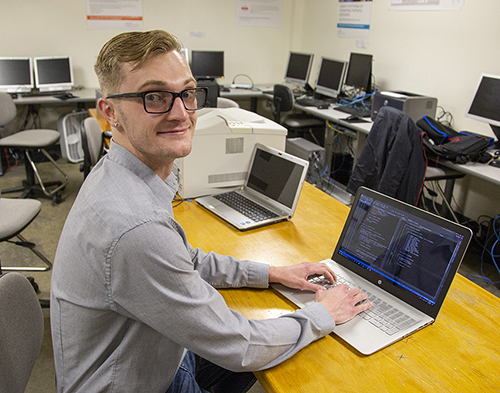 Baker has been programming since he was in the fifth grade and says he is pursuing cyber security specifically because it allows him to utilize his extensive technological knowledge to help people. Cyber security professionals create innovative solutions to prevent hackers from stealing critical information or causing problems within computer networks.
"After I graduate, I would like to work in penetration testing. That would mean that I would test code for weaknesses and fix issues I found for companies," Baker said. "I'd like to bring awareness to companies and help them protect their customers' information."
During the internship, Baker will gain hands-on experience either with IoT malware or device exploitation research. In addition, he will facilitate cyber security camps for junior high and high school students as well as one specifically for women.
According to the Bureau of Labor Statistics, information security analysts earn a median annual salary of almost $98,500. Employment of information security analysts is projected to grow 56 percent in computer systems design and related services between 2016 and 2026.
The REU internship will give Baker real-world experience within the field of cyber security and allow him to network with professionals and students from across the country.
"It's going to be a great 10 weeks, and I really appreciate all of the faculty members who encouraged me to apply for this," said Baker. "I'm going to take this opportunity and try to get the most out of it that I can."
Baker plans to graduate from Sheridan College next May with his Associate of Applied Science in Cyber Security and a Certificate of Completion in Cyber Security. While he eventually plans to pursue a dual doctorate in computer science and cyber security, Baker says that the two-year program prepares graduates to enter the workforce and earn a good salary.
"I would definitely recommend the program at Sheridan College for anybody interested in going into security or penetration testing," Baker said. "You learn all the information you need to know to get a good job in the field after you graduate. Especially if you get a few certifications on top of your two-year degree, you're more than employable."
For more information about the Cyber Security Program at Sheridan College, go to www.sheridan.edu/cyber-security. For more information about the REU program at DSU, go to www.cybertraining.pro.