Sheridan College faculty member winner of Research Award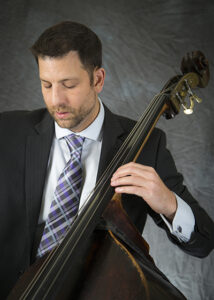 The International Society of Bassists (ISB) awarded Dr. Mark Elliot Bergman, Sheridan College's Director of Strings and Orchestral Studies, the Grand Prize in the Professional Division of their biennial research competition. Every two years, the ISB awards in four categories: excellence in performance, instrument building, composition, and academic research.
According to their official website, ISB is a membership organization dedicated to raising worldwide awareness of the double bass by inspiring, educating, and connecting people, music, and ideas through fellowship. Every two years, the organization hosts a convention that allows bassists of all ages and abilities to enjoy a week of workshops, masterclasses, recitals, and lectures from the awarded winners of the ISB 2023 Research Competition.
Bergman won the professional research category with his paper, "E-Portfolios as Learning Tools for Applied Double Bass Study: A Research-Based, Practice-Oriented Approach."
"This award is without a doubt well deserved," said Dr. Walt Tribley, Sheridan College President. "Dr. Bergman is a scholar, dedicated to teaching and learning, which is exemplified by his own commitment to his craft."
His research indicated that electronic portfolios could be an essential stepping-stone in a student's education. Bergman believes that students can evaluate and elevate their work through this implemented technology.
"Because applied instrumental studies are a discipline that's rooted in tradition, I believe it often lags behind other educational fields in terms of leveraging technology in order to encourage excellence," Bergman said. "I'm excited to share this paper with my colleagues around the nation, and I hope that it will encourage other teachers to leverage some contemporary technological tools in order to build instrumental proficiency in their students."
Bergman will receive $500, publication in the Online Journal of Bass Research, and the opportunity to present his work at the 2023 ISB Convention in June at the University of Michigan.
FOR IMMEDIATE RELEASE:
Contact: Wendy Smith, Vice President for Strategic Communication
(307) 675-0412, [email protected]
Kiley Carroll, Public Relations Specialist
(307) 675-0416, [email protected]
About the Arts at Sheridan College
The Arts at Sheridan College offers students a world-class education. Students may choose to study Art, Arts Administration, Graphic Design, Music, Music Technology, or Theatre and Dance. In the 54,000-square-foot Whitney Center for the Arts, students have 24/7 access to one of the most advanced arts education centers in the West. With state-of-the-art ceramic, printmaking, metalworking, and woodworking studios, art students are only limited by their imagination as to what they can create. Music and dance students perform regularly in the 422-seat Kinnison Hall, the largest in the region, which features a changeable proscenium stage, motorized fly system, and hydraulically convertible orchestra pit. Two gallery spaces showcase work by students, faculty, and traveling shows. Throughout the year, artists, dancers, and musicians from around the world come to Sheridan to perform live or display their artwork at events open to the public. For more information, visit sheridan.edu/arts.