SC's Aguirre Selected for Leadership Program
Sheridan College is proud to announce that College Success Program Director Joseph Aguirre is participating in the prestigious National Community College Hispanic Council Leadership Development Program as a 2019 fellow. Aguirre is one of twenty-four members of the 2019 Fellows Class selected from community college candidates from around the country.
The program is hosted by the School of Leadership and Education Sciences and is designed to develop a pool of highly qualified Latinos whose career interest focuses on assuming increasingly responsible administrative positions, with the ultimate goal of becoming a community college president. "We are honored that Joseph has the opportunity to participate in such a prestigious leadership program," said Vice President of Student Affairs Dr. Leah Barrett. "He will return to our campus with new and important information and strategies to help our students succeed."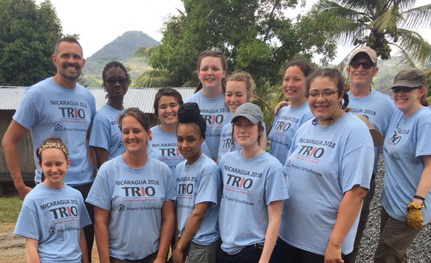 Components of the Leadership Fellows Program include two residential training seminars. The first begins in June as fellows are in residence at the University of San Diego. Each fellow prepares an individualized professional development plan and engages in a mentoring relationship with a Hispanic community college leader, as well as attending the NCCHC Leadership Symposium in the fall, and carrying out online activities in between sessions.
Aguirre was recognized last year as a "20 Under 40" nominee for his leadership at Sheridan College and in the community by The Sheridan Press. He received his Bachelor of Science in criminal justice and a Master of Education in counseling from Shippensburg University of Pennsylvania.
As director of the College Success Program at Sheridan College, Aguirre assists students by providing academic, career, financial and personal/social assistance through individual mentoring.
NCCHC is an affiliated council of the American Association of Community Colleges, a national organization that has provided leadership to the community college movement for the past half-century. The Council, established 30 years ago, works to promote the educational interests and success of the Hispanic community and emphasizes access, equity and excellence for students and staff in community colleges.
One of the first ventures was to offer a leadership development program, with support from the Ford Foundation. Of the original 72 Fellows, more than 15 are now community college presidents.  During the past two years, more than 60 former Leadership Fellows have moved to positions of increased responsibility as executive level administrators, including chancellors, vice-chancellors and presidents. Since the program's inception, more than 250 community college administrators have participated as Leadership Fellows.