SC Student named NCWP Scholar
Second year a Sheridan College student named Wyoming's New Century Workforce Pathway Scholar
Nadia Van Haele, a Sheridan College dental hygiene student, has been named Wyoming's 2019 New Century Workforce Pathway Scholar and will receive a $1,250 scholarship. This scholarship supports students at associate degree-granting institutions who plan to enter the workforce upon the completion of a degree or certificate. This award is in its second year and only one Wyoming student receives it each year. Sheridan College alumna Celsey Martin was the 2018 Wyoming recipient.
Scholars are chosen based on their academic accomplishments, leadership activities and how they extend their intellectual talents beyond the classroom. The program is sponsored by The Coca-Cola Foundation, The Coca-Cola Scholars Foundation, the American Association of Community Colleges and Phi Theta Kappa.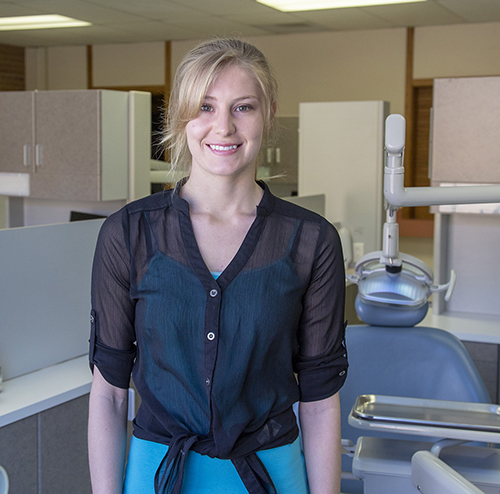 "We are thrilled that a Sheridan College student has once again been chosen to represent Wyoming with this honor," said President Dr. Paul Young. "We are excited to see Nadia excel in the dental hygiene field after graduation this spring and proud of all she has accomplished."
Van Haele, originally from Delta, Colorado, will graduate with her Associate of Applied Science in Dental Hygiene in May. She is active in Phi Theta Kappa and the Student American Dental Hygiene Association. She plans to find a job in the Sheridan area, and she and her husband would like to make the area their permanent home.
"I'm looking forward to being out in the workforce as a dental hygienist," said Van Haele. "This generous scholarship will help me pay off my student debt."
Employment of dental hygienists is projected to grow 20 percent from 2016 to 2026, much faster than the average for all occupations. The demand for dental services will increase as the population ages and as research continues to link oral health to overall health.
Van Haele and the other New Century Workforce Pathway Scholars will be recognized during the Association of Community College Trustees' 2019 Leadership Congress in San Francisco, California, October 16 – 19, 2019.