SC Online Computer Science Certificate
SC online computer science certificate connects teachers with needed education..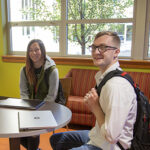 Sheridan College launched its Computer Science Pathway Certificate program in fall 2020 after Senate Enrolled Act 48 required Wyoming school districts to offer computer science classes, increasing the demand for computer science teachers. The fully online program prepares teachers to earn their computer science endorsement through the Wyoming Professional Teaching Standards Board.
All Wyoming school districts are required to begin teaching computer science at all grade levels as of next fall, during the 2022-2023 academic year. All teachers at the middle and high school level who teach computer science must either have received an endorsement from the Professional Teaching Standards Board or be pursuing required training in the near future. As school districts approach the deadline set by the bill, Sheridan College is ramping up efforts to enroll more teachers from around the state in its certificate program.
According to instructor Anne Gunn, the program consists of four core classes and one elective that emphasize hands-on skills in programming, database queries and web-page development. Teachers are introduced to coding platforms and skills they can use in their classrooms.
"We believe this gives teachers the technical background they need to not only teach introductory students but also mentor older students through successful high school coding and Advanced Placement classes," said Gunn. "The partnerships we've nurtured over the last several years with the school districts in Sheridan and Johnson counties informed our choice of courses and of content within those courses."
All requirements can be completed online around the teacher's individual schedule. Teachers can take one or two courses each semester, with most choosing to take one. Because three of the four core classes and one of the electives have no pre-requisites and are taught every fall and spring semester, teachers have the flexibility to take courses in a sequence that works for them.
"It was reassuring to have the individualized support offered by the instructors at Sheridan College. They bring years of industry experience to the classroom, which makes the learning environment richer," said Tongue River High School Business and Computer Science Teacher Shawna Michelena. "The course offerings gave me a deeper understanding of the content that I now teach at the high school level."
Classes begin Jan. 24 at Sheridan College and registration is open now. For more information, go to www.sheridan.edu or call 307-675-0505.
Barnes, Claire
Public Relations Specialist