SC Music faculty member wins prestigious WY Arts Council award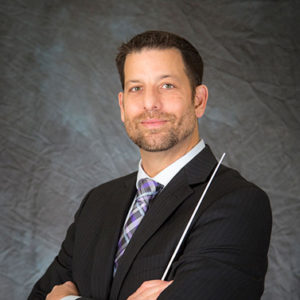 Dr. Mark Elliot Bergman, Director of Strings and Orchestral Studies at Sheridan College, has received a Performing Arts Fellowship in Music from the Wyoming Arts Council, one of four recipients in the state. Bergman's winning original compositions include "Ondine", "The Temple," based on a short story by H.P. Lovecraft, and "Shenandoah Suite", a string trio commemorating the 75th anniversary of the founding of Shenandoah National Park. Bergman's most recent work is for historically informed musicians performing on instruments set up to specifications used in the 17th and 18th centuries.
"The idea is to rediscover the rhetorical power of music as we think artists performed it hundreds of years ago," explained Bergman. "Blending contemporary music with historically informed musical ideas is such a rich opportunity for artistic expression."
According to WAC, Fellowships are awards of merit based on the artist's portfolio. They honor the work of Wyoming artists whose work reflects serious and exceptional aesthetic investigation. Recipients each receive a $3,000 award and are required to complete a public service component to share their work with the community. This year's jurors for Performing Arts were Deborah Schmit-Lobis and Justin Ross.
Bergman plans to produce commercial recordings of his compositions with his award.  "It's such an honor to receive a statewide award like this," Bergman said. "I'm thrilled to be able to record these pieces and share them with the public."
In addition to teaching music at Sheridan College, Bergman directs the Sheridan College Symphony Orchestra, Sheridan College Viol Consort and Wyoming Baroque, a professional early music ensemble performing regionally. He also teaches private music lessons.
Bergman is the former Principal Double Bassist of the Alexandria Symphony Orchestra, Mato Grosso Chamber Orchestra (Brazil) and the New Haven Symphony Orchestra. He spends his summers with the Britt Festival Orchestra in Jacksonville, Oregon and with Assisi Performing Arts in Assisi, Italy. In 2006, he founded Virginia Virtuosi, a recipient of the first Yale University Alumni Ventures Award in 2008, and cited by Fairfax Connections for "turning classical music cool."
The British company Recital Music publishes Bergman's compositions. He received the 2011 Strauss Fellowship from the Arts Council of Fairfax County supporting the creation of Shenandoah Suite, a string trio commemorating the 75th anniversary of the founding of Shenandoah National Park. His first book, "In the Groove: Form and Function in Popular Music" was published in 2012 by Cognella Academic Press. His second book, "Get Up, Stand Up! Higher Order Thinking in Popular Music Studies" was published by Scholars Press in 2016. Mark earned his doctorate from George Mason University in 2015. Bergman also holds degrees from Yale University, the Eastman School of Music and the Manhattan School of Music.