NWCCD All-Wyoming Team Nominees
Seven Northern Wyoming Community College District students were honored as members of the 2019 All-Wyoming Academic Team at the 2019 WACCT Awards Ceremony & Legislative Reception at Laramie County Community College yesterday. Each year, Wyoming community colleges nominate high-achieving students to represent them at the state level. Academic Team members are eligible to receive several scholarships as well as national recognition.
A total of 19 students from Wyoming community colleges were nominated to the 2019 Academic Team. NWCCD students were well-represented, with three students nominated from Sheridan College and four from Gillette College.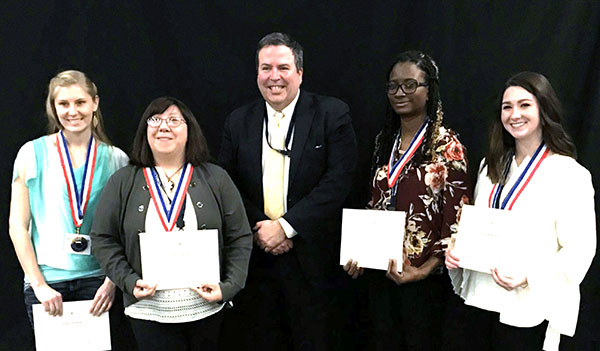 To be eligible, students must demonstrate academic excellence and intellectual rigor combined with leadership and service that extends their education beyond the classroom to benefit society. In addition, they must be a member of their local Phi Theta Kappa chapter and complete an All-USA Academic Team application.
Representing Sheridan College are students Sandra Coleman, Yanique Linton and Nadia Van Haele.
Coleman, a student veteran from Sheridan, is a second-year Visual, Fine and Performing Arts major who plans to transfer to the University of Wyoming. From Kingston, Jamaica, Linton is a Nursing major who also plans to transfer to pursue a four-year degree. Van Haele, a Dental Hygiene student from Delta, Colorado, plans to enter the workforce after graduation.
Students Mikkael Chick, Samantha Power, Jeremiah Reed and David Wright are the nominees from Gillette College.
Reed, from Hulett, Wyoming, and Wright, from San Diego, California, both plan to enter the workforce after graduation. They are also both second-year students studying Industrial Electricity. Chick, from Gillette, and Power, from Mandan, North Dakota, both plan to transfer to a four-year college. Chick is studying Physical Sciences while Power is a Health Science major who plans to become a speech pathologist.
"This recognition is a tremendous accomplishment. To balance college commitments with other responsibilities is not an easy task," said NWCCD Vice President of Academic Affairs Dr. Estella Castillo-Garrison. "These students have excelled academically while contributing to the betterment of our society. This speaks highly of their discipline, persistence, and adaptability — all characteristics of outstanding leadership."
The student who receives the highest All-USA Academic Team application score in each state is named a New Century Workforce Pathway Scholar or a New Century Transfer Pathway Scholar. The program annually recognizes 104 Scholars nationwide. Each New Century Workforce Pathway Scholar receives special recognition at the Association of Community College Trustees Congress. The New Century Transfer Pathway Scholars receive special recognition at the American Association of Community Colleges Convention.
For the past four years, an NWCCD student has been selected to represent Wyoming as a New Century Pathway Scholar. The New Century Pathway Scholarship program is sponsored by The Coca-Cola Foundation, The Coca-Cola Scholars Foundation, the American Association of Community Colleges and Phi Theta Kappa.