New SC Dental Wing Meeting Expectations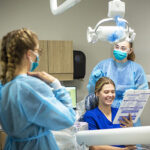 On May 17, 2023, Sheridan Media had a great feature about the Kim and Mary Kay Love Dental Hygiene Clinic located in the recently completed B. F. and Rose H. Perkins Health Science Center at Sheridan College.  The new dental wing opened in February 2022.  
Click Here to read the article.