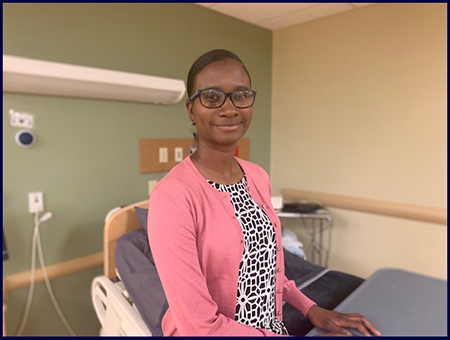 Yanique Linton is one of our Sheridan College Foundation Student Partners.  She  joined the Student Partners program in September 2018.  Yanique will graduate from the SC Nursing program in May 2020.
Where are you from?
Kingston, Jamaica
What is your job title and where do you work?
Lab Assistant for the Chemistry and Microbiology Lab here at Sheridan College.
What is your current major?
Nursing
What are your goals?  Where do you see yourself in 5 years?
My goal is to become a travel nurse and eventually a nurse practitioner. Within the next 5 years, I hope to start my own nonprofit organization where I can provide healthcare services to people all over the world.
When you need a break from academics….
I drink tea, put on face masks and relax.
My scholarships are important to me because….
They give me the opportunity to continue my education and achieve my life goals. Also, I get the opportunity to meet and interact with the donors who in turn inspire me to continue to strive towards my goals.
What do you love most about Sheridan College?
The College is very small which allows for easy interaction students and teachers. It also creates a close-knit relationship between the College itself and the wider community. In addition, Sheridan College allows me as a student representative to meet and bond with different people thereby creating life-long relationships.
How has being a Student Partner for the Sheridan College Foundation benefited you?
The Student Partner program has allowed me to gain new friends as well as making great connections. It has also helped me to gain scholarships which have made my student journey easier by reducing my financial burden. Being a Student Partner has also been a great motivator for me, knowing that given the right assistance and support nothing is impossible; which also inspires me to volunteer in any capacity I can.