Thorne-Rider Campus Center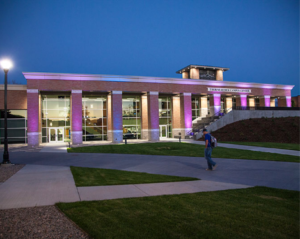 The Thorne Rider Student Center, the nearly 50 year old building on the Campus of Sheridan College has  completed its 34,000 square foot major renovation and expansion project. During the 2013 legislative session, legislators voted to approve the project and so a joint effort began between Sheridan College and Sheridan College Foundation to fund construction of the project.
The architect for the project has described the design as "functional and fun, cool and contemporary." The 17,000 square foot building has been completely renovated and an additional 17,000 square feet was newly constructed. Food service has preparation and service integrated with the dining area. The expanded space and integrated design is able to serve 750 students on campus. Six open preparation and service areas on the upper level are organized like a food court. The seventh food station for pizza is located on the bottom level with informal areas for students to socialize.
The Thorne Rider Student Center is located at the hub of the campus and the new design encourages everyone to spend time there. Sheridan College's students have been part of the design concepts for the building. Meeting rooms for student clubs, extended hours for food service and informal activities and state-of-the art technology for studying and social media are just some of the design features that reflect the students' input. The building layout encourages people to go through the building instead of around it when navigating the campus. The lower level has been landscaped to create a walkout directly to the courtyard between the Whitney Building and the Campus Center. This courtyard will be conducive for pedestrian traffic and outdoor activities.
The majority of student services are now housed in the Thorne Rider Student Center.  The Housing and Student Life center, the Campus Mailroom, the Campus Police, the Veterans Center, the Activities Room and Student Government and College Clubs meeting rooms are all encompassed in the new building.  In addition, there is ample student lounge and flexible/casual seating space for studying, relaxing or socializing.
The Sheridan College Foundation would like to express our sincere thanks to all donors including community members, organizations and Sheridan College faculty and staff.  A special thanks to our Legacy Donors:  The Perkins Foundation, the Thorne-Rider Foundation, Whitney Benefits, the Scott Foundation, the Griffith Foundation and the Kuehne Foundation, without whom this project could not have been completed.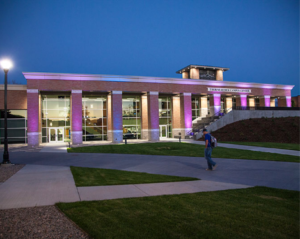 Click Here for fantastic aerial footage of the Sheridan College Campus including the Thorne Rider building under construction,  generously filmed and provided by Dr. Sam Hoffmann at Sheridan EyeCare Center.