Tehn Forte – A Student's Quest for Success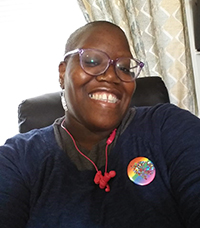 Growing up outside of Atlanta, GA  in a large Liberian American family, Tehn Forte never expected to end up in a small town in Wyoming. Tehn is an artist, writer, student and an activist for social justice, and is currently serving as vice president of the LGBTQ+ student organization at Sheridan College. Identifying as "They or Them" for personal pronouns, Tehn came to Sheridan College in the fall of 2019.
"I didn't know what to expect, but it turned out really well! The education is great, I feel supported and the faculty and staff has been wonderful. I now have my General Education Associate's degree and am working on my goal of becoming a secondary education teacher."
After graduating high school, Tehn took out loans and attended college in Georgia, originally studying English. Not satisfied with the curriculum, Tehn switched majors multiple times, including studying Journalism, Theater, and Art. After six years, personal upheavals and no degree, Tehn did not have any money left for college.
Tehn's partner, having grown up in Wyoming, suggested they move to back Wyoming where education was much more affordable. Sheridan College stood out with the programs and support that Tehn was interested in.
For the first time, Tehn was able to persevere and get an Associate's degree. Encouraged by this success, Tehn is ready to achieve the next goal.  The TRIO program at Sheridan College, which is a federally funded program designed to assist first generation college students and those with limited income, has helped Tehn tremendously "with everything, including financial aid".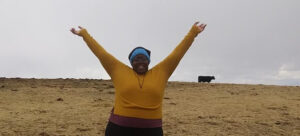 Sheridan College has taken a lot of the stress out of learning for Tehn, between the ease of applying for and receiving scholarships, the support from the TRIO program, and the excellence of her instructors. Now poised for success, Tehn is planning to apply to online programs to finish their Bachelor's degree and hopefully achieve their dream of becoming an English teacher.
"I would not have been able to get my Associate's degree without the help of scholarships from donors to the Sheridan College Foundation. These scholarships have made my dreams come true! I would like to say thank you, thank you, thank you to the generous donors who have made such a difference in my life!"