Student Spotlight – Landry May
All it took for Landry May was one combine ride with her stepdad. Suddenly, the young girl from a small town in northwestern Montana knew she wanted to pursue an education in agriculture.
"My parents supported me in continuing my education, but they believed that it was important for me to pay for this all myself. I set a goal to finish college with no student loans." She started saving money for college in high school and applied for every possible scholarship opportunity.
Landry's aunt was an alum of Sheridan College and urged her niece to visit the school. "As soon as I walked into the agriculture building, I knew that would be a space that I would thrive in. Something about Sheridan College gave me a sense of home and did not make it seem scary to move 9 hours away from my family to a town where I didn't know a single person. And boy was I right!"
Landry was initially a quiet student who was too timid to ask questions. Over time, she came out of her shell and started taking advantage of all the opportunities available to her. She immersed herself completely in her studies and joined the Phi Theta Kappa Honor Society, became an Ag Ambassador, joined the Agriculture Club and started doing soil microbe research with one of her professors.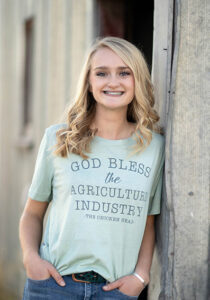 Landry applied for and was awarded several Sheridan College Foundation scholarships in her educational journey at Sheridan College.  "Because of the generosity of the scholarship donors, I am proud to say that I not only just graduated with two Associate's degrees with no debt, I was also able to use the money I saved in high school to purchase my first home at 19 years old!"
Last spring, through her participation in the Sheridan College chapter of Phi Theta Kappa, Landry was also able to secure two national scholarships from the Phi Theta Kappa Honor Society to help her in her continued studies.
Currently a full-time University of Wyoming student working on earning her Bachelor's and Master's degrees in Plant Production & Protection, she is also working on an Agritourism degree from Sheridan College.  Smiling, she said, "I loved Sheridan College so much that I wasn't able to quite give it up yet!"
"Sheridan College has not only given me the opportunity to learn, but it has also given me the opportunity to grow and make many lasting relationships. I want to thank each and every one of the donors for what they do for Sheridan College students. I would not be the person that I am today or be accomplishing my goals, without all of them. Thank you for making my dreams come true!"