Sheridan College Tech Center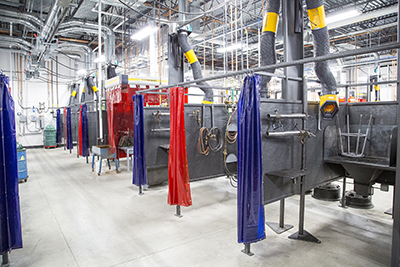 Sheridan College's Technical Education Center was originally built in the 1970s. Over the past decade, demand for college trained tech workers has grown exponentially in Sheridan and the surrounding region. The limitations of the 40+ year old original facility became an increasing obstacle to providing both the quality and the quantity of trained workers needed for new and expanding area tech firms, igniting the need for the Technical Center's renovation and expansion.
In 2016 the Wyoming Legislature and Governor Matt Mead, recognizing the critical importance of technical trades to Wyoming's economy, approved $6.5M in state funds as 50% funding for the $13M renovation and expansion of the original Tech Center.
Recognizing the importance of the Technical Center expansion, Whitney Benefits once again generously contributed to the need at hand, providing $6 million to the project. Mr. Edward A. Whitney's dedication to the success of the Sheridan community and its technical trades industry made the Technical Center project a perfect match for this type of gift.
In memory of Mr. Joe Watt, Mrs. Roberta H. Napier and Mr. William F. Welch, their respective family Foundations joined with the State of Wyoming and Whitney Benefits, donating the remaining funds needed to complete the $13 million renovation and expansion project.
The project consisted of two parts:
(1) The complete renovation of the existing 23,400 sq/ft building to replace outdated electrical, air handling and other systems.  All of the original space was preserved and brought up to 21st century technology teaching and learning standards.
(2) A brand new 19,700 sq/ft addition to the original building nearly doubled the space of the original tech center providing capacity for future growth, allowing for a 50% increase in the number of students who can be accommodated.
The facility was completed in time for the start of the Fall 2018 semester.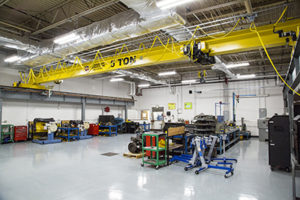 The Wyoming Department of Employment estimates that over the next ten years, 1,359 new workers will be needed just to replace Wyoming retirees in diesel, welding, construction and machining jobs.  All of these programs at Sheridan College continue to see a 100% job placement rate – with many students receiving job offers even before they graduate.
Sheridan College's technical programs have established themselves as some of the top programs in the Mountain West and have numerous state and national competition championships to prove it.  The Additive Manufacturing team from Sheridan College was recognized as the top NATIONAL program, bringing home a gold medal from the national Skills USA competition in Louisville, KY in 2016.
The Sheridan College Foundation would like to thank the all the people and foundations who have contributed to this incredible project.
The  Sheridan College Tech program will serve our students and our community for years to come!