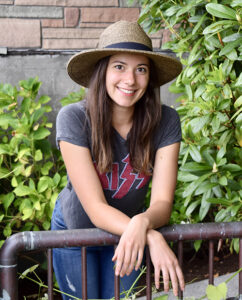 Rachael is one of our Sheridan College Foundation Student Partners.  She joined the Student Partners program in the spring of 2020.
Where are you from? Roy, MT
Projected graduation date: 2023
What is your current major? Health Science
What is your job title and where do you work? I work in the library as a Writing consultant and Biology Tutor for part of the time. I also work in Admissions as a Student Ambassador.
What are your goals?  Where do you see yourself in 5 years? A big goal is to be accepted into the Dental Hygiene program here at Sheridan. Once I graduate from the program, I want to be a pediatric hygienist because I think kids are awesome and I want to help improve their future health. Alongside of my Bachelor's in Dental Hygiene, I want to earn a coaching certificate so I can coach track or volleyball. The five-year goal is to be working with the Global Dental Relief program in India to clean teeth for those who don't have access to oral care.
When you need a break from academics…. I enjoy taking hikes or playing volleyball with my friends if the weather is nice. If the weather is terrible, you will most likely find me reading a book and cuddling my dog while jamming out to Green Day or Eagles.
My scholarships are important to me because…. they are helping me go to school. Without them, I would be in debt and stressed. I get to focus on my education and not be working a full-time job.
What do you love most about Sheridan College? Is "everything" an answer? I suppose what I love most is the positive atmosphere and how the people here are wanting to help you succeed and achieve your goals.
How has being a Student Partner for the Sheridan College Foundation benefited you? Being a Student Partner has given me a chance to meet leaders of the community and learn how I can become a better leader for my community.