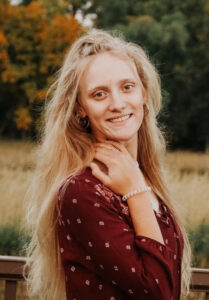 This is Payton's second year as a Student Partner.
Name: Payton Vrbas
Projected graduation date: 2022 or 2023
Where are you from? Wright, WY
Are you working while going to school? If so, what is your job title?  I am currently working at Foot of the Bighorns. My job title would be salesman.
What is your current major? General Agriculture and Exercise Science.
What are your goals?  Where do you see yourself in 5 years? My goals included having my dream job after graduating. Maybe even coaching a bit of volleyball.  In five years I am hoping to be out of school with my Bachelors in Athletic Training. Hopefully having a job at a high school and possibly helping at a local ranch.
When you need a break from academics…. I like to go to the mountain and just relax. Hang out with friends and family. Taking time to just relax and enjoy the little things.
My scholarships are important to me because….  They are helping me further my education. And getting to the place where I want to be in life. Which is helping high school kids understand why exercise is so important, helping prevent injuries, and helping with recovery.
What do you love most about Sheridan College?  I love the people, the teachers, and how active everyone is. I can't imagine being anywhere else other than Sheridan College. It's going to be very hard to find somewhere else once I graduate.
How has being a Student Partner for the Sheridan College Foundation benefited you?  It benefits me because I am getting to meet so many new people. Making new connections with people I would not have gotten to meet if I wasn't a part of Student Partners.