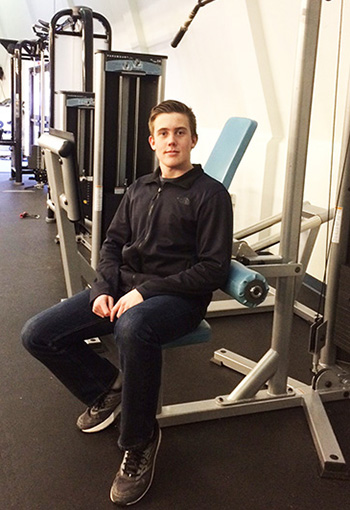 Mecallen is one of our Sheridan College Foundation Student Partners. Currently a freshman with a full load of courses in addition to his extracurricular activities, we were able to catch up with him during his busy schedule for a quick interview.
What is your projected graduation date? Associate's 2019, Bachelor's 2021
Where are you from? I was born and raised in Sheridan, Wyoming.
Why did you choose Sheridan College? It was free due to a full ride High Academic Achievement Award, and I lived at home.
What is your current major? Exercise Science for my Associates, Kinesiology for my Bachelor's degree.
What are your goals?  I would like to become either a Physical or Occupational therapist.
When you need a break from academics…. When I am not busy with academics and things involved with school work or actual work, I usually am planning/configuring schedules to follow to stay on a smooth path to getting a successful college experience. Either that or I'm napping.
My scholarships are important to me because… they allow me to complete my first two years of college entirely free of debt.
What do you love most about Sheridan College?  My favorite part about Sheridan College is the ability to make personal connections thanks to the tight knit community the College is surrounded by. It seems to me that you can find many influential people just by getting involved in the clubs and organizations that the College organizes. This has benefited me greatly and will be missed the most when I leave to continue with my education.
How has being a Student Partner for the Sheridan College Foundation benefited you? In the short-term, it has benefited me because I received an internship in Senator John Barrasso's Sheridan office thanks to a recommendation by the Foundation Student Partner leaders. In the long-term, I am getting to know  the people of Sheridan in a way I never got to before.  I would not be who I am and where I am without Sheridan College's many opportunities!
Tell me about your internship with Senator Barrasso's office in Sheridan. The main purpose of the office is to house and run information for Senator Barrasso regarding Wyoming and all its needs. He can use that information to answer questions and solve issues, as well as stay up to date on what is going on in the town.  I have been enjoying all of it so far. My work includes a lot of organizing and posting information from paper to digital about cases the office has handled.  A true highlight of the internship is getting to keep up on what is happening on the news. I have always enjoyed that and now I get to implement it into my job. The internship has given me a purpose outside of school to help people and make a difference in the community.