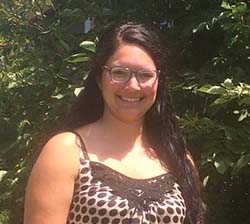 Projected graduation date: December 2016. After five years and two degrees at Sheridan College (AA in Modern Language and AAS in Massage Therapy) I am down to my last semester via the University of Wyoming Outreach School of my Bachelor's in Psychology!
Where are you from? Clearmont, WY- Just a small spot on the map 45 minutes from Sheridan.
What is your job title and where do you work? I run the front desk at The Ranch At Ucross, and I work in private practice as a massage therapist.
What is your current major? My current major is Psychology, and I hope to continue and obtain my Master's and/or PhD/PsyD in the next few years.
What are your goals? Where do you see yourself in 5 years? My goals in life include: happiness, a fulfilling career, and a big family. I hope to specialize in chronic pain counseling and sleep disorders with the education I will obtain, working in private practice and/or in the healthcare system. Happiness comes with seeking your interests to the fullest and living your life with positivity and passion. In five years I hope to be finishing graduate school and on my way to being everything I set my mind to!
When you need a break from academics…. I try and give myself one day each week during the school year that I don't think about or do school work…usually I can do it successfully. I always get enough sleep, take some time for myself (aka pedicure!) and get monthly massages!
My scholarships are important to me because…. My scholarships are the reason I am still able to attend college courses. Without them, I would be financially unable to do so, and I am grateful for every single scholarship I have received. Winning a monetary award designated for education is a fabulous feeling- overwhelming accomplishment and pride to continue to perform well.
What do you love most about Sheridan College? Sheridan College is family. It takes people like my professors, student partner coordinators, advisors, and employers to make education complete, and I never felt alone or without any kind of help if I needed it. Professor Joseph Aguirre, Dr. Mercedes Batty, Dr. Rachel Kristiansen, and Professor Diane Redman helped me to become the student I am and are still impacting me as a person today. When a professor becomes your mentor, that person has gone above and beyond to give you an education you are proud to have.
How has being a Student Partner for the Sheridan College Foundation benefited you? The Student Partner Organization has taught me how to push myself to be the best I can be, how to really become a leader, and how to communicate as well as establish connections with individuals from the community. I will be forever grateful for the experiences I gained through my time as a Student Partner and can't extend to the Foundation Office personnel how much I appreciate their time, effort, and expertise in the areas of hospitality and communications.