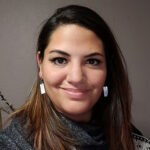 Designing and sewing has been an important creative outlet for Katherine Emond for almost thirty years. Now an Engineering Technology major at Sheridan College and an engineering aide at Kennon, she is turning her favorite hobby into a rewarding career.
Emond, who is married with three teenaged children, started working at Kennon as a production specialist five years ago when she and her family moved to Sheridan. Recognizing her design ability, the company soon promoted her to work on a contract to develop and redesign life preservers for the U.S. Navy.
"Having my employer support me going back to school to expand on my skills is wonderful," she said. "Without Sheridan College being here locally and offering this program, I probably would never have been able to attend college. After I graduate, I'll have expanded opportunities at Kennon, because my skills will be much greater in terms of the designs I can create," she said.
Emond received grant funds through Wyoming Works, a federal program specifically for older adults, to pay for college, as well as several other scholarships. She says she hopes more adults will take the opportunity to go back to school to improve their lives.
"It's never too late for college. The world needs more people who can solve problems like these," she said. "If this almost 40-year-old mom can do it, you can too!"