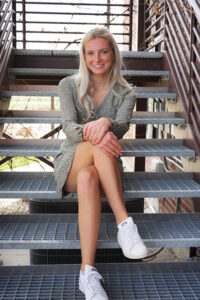 Kade is one of our graduating Student Partners. She joined the Student Partner program in the Fall of 2019.
Projected graduation date: May 2020 
Where are you from?  Big Horn, WY
What is your job title and where do you work?  I work independently and train horses. 
What is your current major? Health Science 
What are your goals?  Where do you see yourself in 5 years?
My goal is to become a Psychiatric Nurse Practitioner. In five years I hope to be close to that goal and somewhere warm! 
When you need a break from academics….
 I ride horses or watch Netflix. 
My scholarships are important to me because…. They give me the opportunity to focus on my education and take the stress away from worrying about paying for my studies. There are so many awesome scholarships available for everyone at Sheridan College. Finances are a huge factor for most people when choosing a college, so having so many scholarship opportunities at SC really appealed to me. 
What do you love most about Sheridan College?
 I love how personable the staff at Sheridan College is. There is always someone more than willing to help whether it be in the classroom or outside of it. The professors are actually interested in who you are and what you may be struggling with. You are not just another filled seat to them. 
How has being a Student Partner for the Sheridan College Foundation benefited you?
Being a Student Partner at Sheridan College has benefited me in many ways. It really pushed me out of my comfort zone, and I am super grateful for that. I usually just stick to myself, but the Student Partner program made me get out and volunteer and make new connections with people. It has also broadened my networking ability with people in the community. I grew up here, so being able to connect with the people that keep this community so great was an important benefit for me.