"Jazz in the Bighorns" Workshop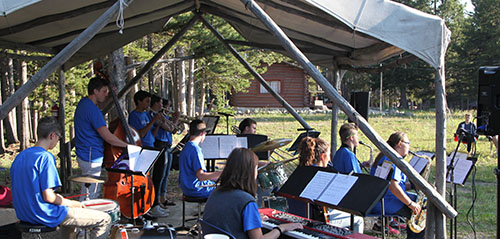 The SC Jazz Studies program has enjoyed a great deal of growth in the last two years.  In order to build upon this momentum, Sheridan College Director of Bands and Jazz studies Dr. Eric Richards developed a workshop "Sheridan College JAZZ IN THE BIGHORNS", using the Spear-O Wigwam mountain campus to offer a five-day summer residential jazz camp for high school juniors, seniors, and music educators. Sheridan College Foundation donors helped fund the workshop with an Opportunity Grant.
The students all made tremendous strides in their understanding of jazz performance and repertoire. In addition, from a recruiting and promotional perspective, the camp was extremely effective since 45% of the attending students requested a tour of our excellent music facilities along with information on music scholarships.
A couple of quotes from students and faculty after the conclusion of the camp:
From a student attendee – "It was a very fun experience and I learned so much about jazz and the theory behind it. I hope that this camp continues in the coming years since it is great."
 From a parent of a student attendee – "(Our student) enjoyed camp tremendously and we are looking forward to next year. We are also encouraging a couple of his out-of-state friends to join him."
 From a faculty attendee – "Thank you for an excellent experience. The camp was designed really well."
 Dr. Richards was very pleased with the outcome and plans to make it an annual event.