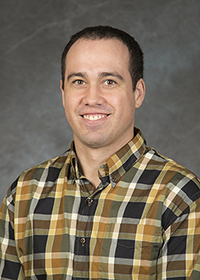 With his warm smile and childlike enthusiasm, it's easy to picture Sheridan College Machine Tool Technology student Frank Baca as an 8-year-old running lathes with his grandpa in Northern Idaho.  "I would help him do ranching work and haying, but mainly I found my machine tooling interest in the machines he had in his shop. My grandpa would just let me loose in there," Frank remembers.It was then he knew he loved machining—but he didn't realize until decades later, and a few moves across Wyoming and Utah, that his interest would lead him to Sheridan. Frank grew up in Evanston, moving to American Fork, Utah, for high school. After taking general courses at Utah's Snow College, he worked at the world-famous Jackson Hole Mountain Resort Aerial Tram, which take people to the top of Rendezvous Mountain.
He spent four years on the Tram, running snowcats and the summer bike lifts. But he always remembered his days machining with his grandpa—and his early experiences with other family members who had fostered his love of machining. "One of the main people to get me into machining was my mom's ex-husband," Frank says. "He did a lot of equipment repairs … he had built a couple of his own machines, and worked with electronics, too. He was an electronics genius."
When he was ready to go back to school, Frank knew he wanted to stay in Wyoming. With no major connection to Sheridan, he cold-called the school, and he was impressed by what he heard. "I did some research, and I called Sheridan College. They told me they had just spent a bunch of money on their machine tooling machines and program," Frank says. "The timing was just right for me."
 Frank took 20 credit hours his first semester at Sheridan College and around 15 his second. He's taking the summer off from coursework before starting his second year in the fall.  Frank enjoys the benefit of living on campus through the summer break. Frank is a Sheridan College Foundation Student Partner, a Sheridan College Ambassador, was named Rotary Student of the Month in April 2017 and the 2017 Keys to the Stone award winner.
"Sheridan College has been awesome. It has been a great experience," Frank says. "I've done a lot of manual machining, with a lot of hands-on learning, while learning a little bit about the industry too."
In his coursework, Frank says he has done a little bit of everything. "We start with manual machining, and then last semester we did a lot of work within SolidWorks," a solid modeling computer-aided design program that can be used for 3D printing. "I just barely bought a 3D printer last week, and it's awesome. I printed out a fishing lure, I printed out some valve stem caps and some basic upgrades from my bike," Frank says, smiling.
At Sheridan College, he says, you can't get a better value for your dollar. "Sheridan College is an awesome experience, and for all the money that has been put into Machine Tool program, it is a great place to study," Frank said. "I have gotten so much support from not only my own professors but from everyone, and the networking opportunities have also been great."