Construction Tech Equipment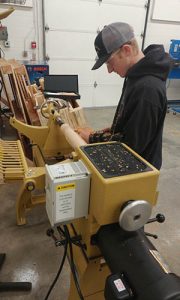 Construction Tech instructor Josh Michelena has made it his mission to build a fully stocked commercial construction technology learning lab for SC students. Due to budget constraints, Sheridan College currently lacks some of the necessary equipment to have a quality cabinet and wood fabrication lab. Josh has made it his goal to add equipment one piece at a time until the fabrication lab is complete.
Josh has steadily been adding quality equipment, applying every year for Faculty Staff and Opportunity Grants that are funded by Sheridan College Foundation donors. In the spring of 2017, Sheridan College Foundation donors funded the latest grant request by the Construction Tech program to buy a Powermatic 3520B Lathe.  This lathe is the eighth piece of equipment to move into the new construction space on campus. Having this quality lathe could possibly lead to interdisciplinary presentations on wood turning with the SC Art and Sculpture program.
Since 2013, Josh has received funding to add a Powermatic disc/belt sander, a Powermatic 8" jointer, a Powermatic 18" drill press, a Jet vertical oscillating spindle sander, and a Powermatic 24" bandsaw, in addition to several smaller pieces of equipment.
The long-range outcome of this project is to have a complete construction technology fabrication lab for SC students and to also have the ability to open up the facility for classes that will provide community education in the field of woodworking and construction.
Update: The Powermatic Wood Lathe was an excellent purchase, a high quality machine which will be used for many years to come by students and the community.  Having this piece of equipment now will help with the technical center remodel, because the dust collection and electrical service can be hooked directly up during the remodel and will not have to be done later and a higher cost.