Braylee Armajo – First Generation College Student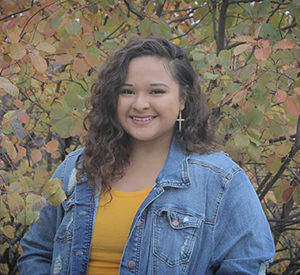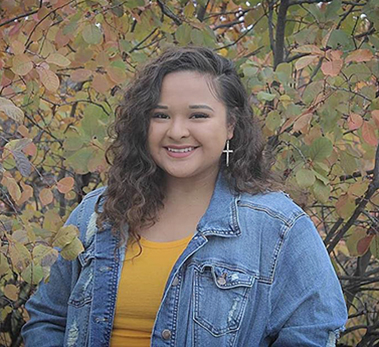 Born and raised on the Crow Indian Reservation in southern Montana, Braylee Armajo is the first member of her family to attend college. She attended local schools on the reservation until she reached high school, when her parents decided to send her to St. Labre Indian School in Ashland, MT. Braylee's parents did not graduate high school and wanted her to have the best shot at a good education.
After graduating high school, Braylee decided to come to Sheridan College. She explained, "It was the perfect combination of being away from home but also close enough so that I could go home on the weekends if I wanted or needed to go home."  She is pursuing an Associate degree in Human Services, and is also planning on earning a Certificate in Drug and Alcohol Addiction.
During Braylee's freshman year, there was an incident at Sheridan College involving racist comments that were directed at Braylee and her roommate. Braylee's mother urged her to not turn the incident into something hateful. "She told me that it was most likely a lack of knowledge and education about Native Americans that sparked the comments. So I heeded her advice and started the Native American Club to support each other and to educate people about our culture and our traditions."
The students that joined the club were from different tribes and different "cliques", but they all came together and really embraced the vision of the club. Braylee said "We didn't really know each other at first, but the club helped us become friends and support each other." The group puts on educational presentations, has shown movies showcasing Native American culture, and has sponsored several concerts by the Native American hip hop artist Supaman at Sheridan College.
Braylee said "We have had great participation in all our club's activities. I do feel that we are opening the dialogue and people feel comfortable asking us about our Native American heritage."
During this time, the directors of the Sheridan College TRIO program reached out to Braylee and her roommate. TRIO is a federally funded program designed to assist first generation college students, and is tailored to suit each student's unique needs.
Braylee explained "They (TRIO) really helped me work through it. The TRIO center became like a second home for me, a safe haven where I was welcomed and understood.  They encouraged me not to give up and helped me through some tough times. That was so important to me because I was very homesick and really missed that family support. The TRIO center and staff filled that void in my life."
Since then, Braylee has really blossomed. "The first year, I didn't realize that most activities on campus were free.  I thought I couldn't afford to do anything because I didn't have any money. Last year I went to everything!"
She was also pleasantly surprised at how diverse the Sheridan College student body was. "I was worried that I would be the only brown skinned person on campus, but was happy to see there were students of all colors from all over the world at Sheridan College."
Braylee feels that her experiences at Sheridan College have prepared her well for the next step in her educational journey.  "I think that after I graduate from SC, I would like to go to the University of Wyoming to complete my Bachelor's.  If you had asked me if I could do that a couple of years ago, I probably would have said I couldn't do it but now I feel I am ready!"
With Braylee's leadership skills and determination, and everything she has overcome with the help of her Sheridan College family, there is no doubt this young lady will be successful in whatever she chooses to do with her life.