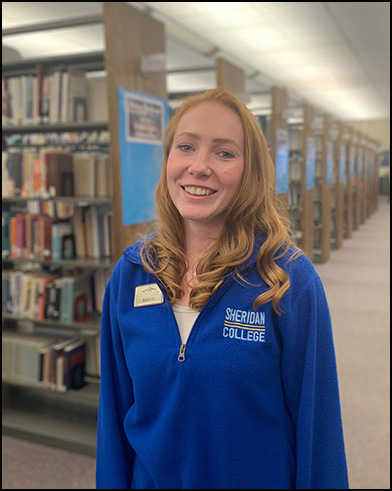 Ashley is one of our Sheridan College Foundation Student Partners. Currently a freshman, she  joined the Student Partners program in September.
Projected graduation date: May 2020.
Where are you from? Farson, Wyoming
What is your job title and where do you work? I am an RA and Library Aide at Sheridan College.
What is your current major? I am a double major in Horticulture and Ag Business.
What are your goals?  Where do you see yourself in 5 years? One day I hope to own and manage my own greenhouse. In five years I hope to be starting off my business or working under someone in the Horticulture field so I can gain infield experience that I can use when I do start up my greenhouse.
When you need a break from academics…. I usually tend to wind down by hanging out with my friends mostly but you can also find me secretly jamming to music in my room or binge watching Netflix.
My scholarships are important to me because…. My scholarships are incredibly important to me.  If it were not for my scholarships, I would not be here. I really like school and because of school and my scholarships I am able to pursue my dreams and reach for the stars!
What do you love most about Sheridan College? I love that the campus is small and so close to such beautiful mountains.  I think this town is just adorable and is so supportive of each other and I love that!
How has being a Student Partner for the Sheridan College Foundation benefited you?  Being a Student Partner for the Sheridan College Foundation has benefited me in many ways. It has helped me become more appreciative of those who have gone before and paved the way for me to reach my goals. I have learned the importance and power of networking with community members and I have gained a greater understanding and appreciation for the things that happen behind the scenes. Most people don't see or even know what the wonderful people of the Foundation sacrifice and do, they only see the repercussions. Since I have been a Student Partner I have had the chance to see first-hand the things the Foundation does for the College and it is absolutely incredible.