Ashley is one of our graduating student partners. She will be missed!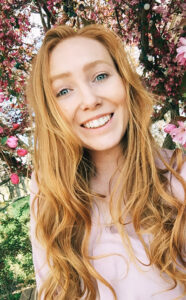 Projected graduation date: 05/2020
Where are you from? Farson, WY
What is your job title and where do you work? I used to work at the college library, I then worked for Piney Island Native Plants. I was also an RA and I will soon be working for the McCone country weed district in Montana. There I will be a seasonal crew member. I will be helping spray, contain, and strive to minimize noxious weeds within the county.
What is your current major? Horticulture, Ag Business
What are your goals?  Where do you see yourself in 5 years? My goal is to earn my bachelor's degree in Horticulture from Montana State University and to either be managing a greenhouse or working as a Horticulture Extension Specialist. In 5 years, I hope to be serving a community with my love of plants and to also be sharing my talents with my own family and teaching them about the many beautiful things we are blessed with in this world.
When you need a break from academics…. I watch Friends, spend time outdoors with friends and family, or take a nap.
My scholarships are important to me because…. Without them I would not be able to afford my school supplies that help me excel. They allow me to spend more time on my studies and less time trying to find a way to afford schooling.
What do you love most about Sheridan College? The faculty, staff, and community are so incredibly supportive. The campus is so clean, all the time! There is always something to do.
How has being a Student Partner for the Sheridan College Foundation benefited you? Being a Student Partner of the Sheridan College Foundation has been an opportunity of a lifetime. It has been an incredible support system and has allowed me to network with select individuals who have gone above and beyond to accomplish great things. It has inspired me to dream big and to remember those who helped me along the way.