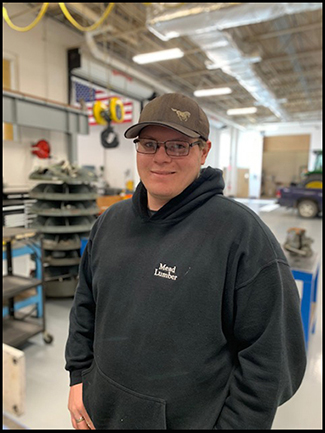 Alden is one of our Sheridan College Foundation Student Partners. Currently a freshman, he  joined the Student Partners program in September.
Projected graduation date: Spring of 2020.
Where are you from? I'm from a small town called Rock River, which is located 38 miles north of Laramie, WY.
What is your job title and where do you work? I currently hold two jobs, one is a full-time job here at Sheridan College as a resident assistant and I'm employed as a part-time welder at VACUTECH.
What is your current major? My current major is Diesel Technology.
What are your goals?  Where do you see yourself in 5 years? My goal is to graduate with an Associate's Degree in Diesel Technology in the spring of 2020 and then possibly return to Sheridan College and receive a certificate in Machine Tool Technology. In 5 years, I would like to be employed and be a resident in the Sheridan area.
When you need a break from academics…. When I need to get away for a little while I like to go home and work with my brother on new construction and remodeling projects. If the weather is too snowy for work, I do enjoy snowmobiling or snowboarding in the snowy range. In the summers I enjoy honest hard work during the week and fishing or swing dancing on the weekends.
My scholarships are important to me because…. I am thankful for the scholarships I have received because they allow me to focus more on my schooling and less on how I will pay for my education.
What do you love most about Sheridan College? There are many things I love about Sheridan College. Between the wonderful staff, the exciting sports activities, to the quiet laid-back weekends, the one thing that I would say I love the most would be the beautiful location of the college, with the Bighorn Mountains right at my fingertips.
How has being a Student Partner for the Sheridan College Foundation benefited you? As a Student Partner I have had wonderful opportunities to give back to the community, which has been very generous and supportive of Sheridan College. I have been able to bring the College to the public by helping out at a Sheridan College Third Thursday booth. I have been able to attend some Rotary meetings, a Chamber of Commerce lunch, a Distinguished Alumni ceremony and so much more. Through all these experiences, I have been able to make valuable friendships and connections within the community while having the opportunity to learn about projects and events taking place in the Sheridan area. The one thing I believe that has benefited me the most from being a Student Partner has been the people I have been able to forge relationships with, both within the Foundation office and among the community. These relationships are truly the greatest benefit one will receive from being a Student Partner.