Faculty Spotlight – Edith Johnson-LaMeres – all about student success!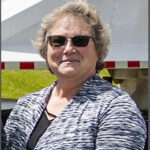 "Edith Johnson-LaMeres is always willing to help wherever needed" said co-worker Jim Will. "She has done so much and continues to do so much – to ensure the success of Sheridan College and its students."
Edith was born and raised in Sheridan, Wyoming. She attended Sheridan College and completed her Bachelor's and Master's degrees in Civil Engineering at the University of Wyoming. After graduation, she had a successful career in the engineering field including stints with Western Water Consultants, the State of Wyoming DEQ and the City of Sheridan as the City Engineer, City Planner, Senior Building Official and Utilities Director. In addition, she taught a variety of Math and Engineering classes at Sheridan College for the last 22 years, starting as an adjunct and becoming full-time faculty in 2004.
Jim explained that "even during her career in engineering, Edith found time to contribute to student success at Sheridan College. She has worked with 4-year university engineering programs in the region so local students can transfer seamlessly. She also helped establish our math tutoring center where students can drop in for extra help."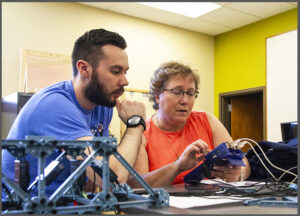 In her career, Edith has served on more than 30 college and statewide education committees, including serving as Sheridan College Division Chair of Engineering, Mathematics, and Sciences. She is currently serving as Dean of Career and Technical Education, in addition to her teaching duties.
Edith spends countless hours outside of her required time as faculty at the college, advising and mentoring students while at Sheridan and often after they graduate. Theron Kalasinsky, currently at South Dakota School of Mines and Technology, said "All in all, she really is one of, if not the best teacher I have had in my entire academic career. She really cares about her students."
Former student Trent Passini added, "Edith has a knack of looking through a classroom, seeing which students are struggling at understanding something, and explaining it in different ways until they understand. You never forget a great teacher, and Edith truly is a great teacher!"
Edith's talents are not just limited to being a terrific engineer and educator. She has also successfully written numerous grants for the Sheridan College Engineering , Math, Distance Learning, Machine Tool, Construction Tech, and Welding programs, adding needed funding for equipment and training to keep those programs running at an optimum level.
But most importantly, as countless students and fellow instructors will attest, Edith has made student success at Sheridan College a personal mission. We are so fortunate and thankful that she chose to come back to where she started her studies and to have her as a member of our Sheridan College family!