EveningPlus: New initiative at SC
Sheridan College EveningPlus: New initiative offers flexible evening and online classes.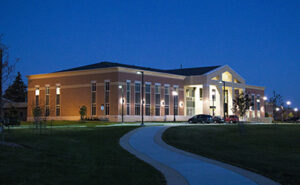 Sheridan College is launching a new initiative for busy adults. The EveningPlus program offers students the ability to attend courses in flexible ways, including in the evening or online. Students can pursue a degree, complete general education requirements to transfer to a wide variety of bachelor's degree programs, and/or complete pre-requisites needed for admission into the Nursing or Dental Hygiene Programs at Sheridan College, all during the evening hours.
In addition to a flexible class schedule, Sheridan College Support Services, including tutoring, the Writing Center, Math Lab, and library, will be available in the evenings. According to Northern Wyoming Community College District President Dr. Walt Tribley, EveningPlus is designed for adults who are interested in getting ahead but whose busy schedules make it difficult to attend class during the regular work day.
"We recognize that there are adults in our communities who may want to increase their earning power with a degree, but they lead busy lives and require a flexible schedule and additional support to be successful," said Tribley. "This program is geared toward that busy person."
The degrees currently offered within the EveningPlus program – Business, Social Science, General Studies, Health Sciences and Human Services – prepare students for jobs currently in-demand regionally and with higher earning potential than those jobs requiring only a high school diploma. Evening classes will generally be between 5 and 9 p.m. at Sheridan College, and online courses are available anytime.
"Sheridan College is here to give local people the education they need to make more money, reach their career goals, and create a better life for themselves and their families," said Tribley. "We are proud to launch this initiative and look forward to continuing to grow our flexible offerings."
Scholarships specific to adult students are available, as well as the potential to earn credits for college-level learning acquired through prior job and volunteer experience. In addition, students may be eligible for laptop rentals and technology stipends.
Spring course registration begins Nov. 9, 2021 and classes begin on January 24, 2022. For a full list of programs available and more information, visit www.sheridan.edu/Plus or call 307-675-0500.