Dr. Paul Young Announces Retirement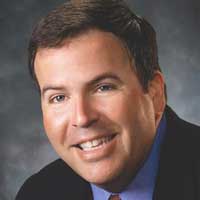 Press release: Northern Wyoming Community College District President announces plans to retire in July 2019
October 19, 2018
Today at a special meeting of the Northern Wyoming Community College Board of Trustees, NWCCD President Dr. Paul Young announced he will retire in mid July 2019. As one of Wyoming's longest-serving higher education leaders, Young became president of NWCCD in June 2010 after serving five years as the vice president of institutional effectiveness at Gillette College.
"On behalf of the NWCCD Board of Trustees, we want to sincerely thank Dr. Young for his energy and focus over the past eight years," said Board Chair Norleen Healy. "It is awe-inspiring to look back at all of the positive changes our institutions have accomplished under his leadership. We are sad to see him go. At the same time, we are grateful for the strong leadership team he has built while here. This will help us move forward without disruption in our strategic direction or momentum."
During Young's tenure as president, the entire NWCCD service area, which includes Johnson, Campbell and Sheridan counties, has seen immense positive change and growth. The District's two supporting foundations have grown their assets from $24.8 million to $45 million, allowing them to award almost twice the number of student scholarships. Under his leadership, the annual number of certificate and degree awards grew 75% from 461 credentials awarded in 2011 to 806 in 2018.
"This was a difficult decision because I feel so blessed to have had the opportunity to live and work here in Wyoming, first in Gillette and then in Sheridan, and to partner with community leaders and organizations across our three county service district who see our work as critical to building sustainable communities." said Young. "When I end my service next July, I will leave owing a tremendous debt to the many dedicated faculty and staff whose efforts have created an incredible run of success for our college district. I want to say how proud I am of our students whose success, on our campuses and as alumni, prove every day the value of what we do."
Adept at communicating the value of community college education, Young built public and private support for building projects totaling over $130 million in new and renovated college construction, creating park-like campuses that are considered centerpieces of the Gillette and Sheridan communities. Among other accomplishments, he worked with school districts to increase opportunities for high school students to gain college credit and grew the nursing program capacity for the District by 26 percent between fall 2010 and present. A retired Navy Reserve Commander, Young also made serving veteran students a priority by establishing staffed veteran centers at both Sheridan College and Gillette College.
A Fulbright Scholar who completed his doctoral research in Germany from 1989 to 1990, Young began his career as a philosophy teacher at Saint Joseph's College in Standish, Maine. He next served as dean of the Business School at Husson College in Bangor, Maine, and then as chief information officer at the Wentworth Institute of Technology in Boston before coming to Wyoming in 2005.
The NWCCD Board of Trustees announced they will once again partner with the Association of Community College Trustees and Dr. Pamila Fischer, an ACCT consultant with over a decade of experience conducting national searches, to aid in the search for a new president.