Conrad Teitell, Professor of Law, practicing lawyer, and popular lecturer, will present: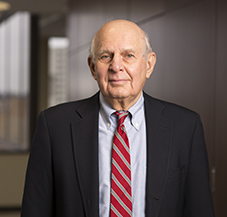 "Charitable contribution deductions NOW for gifts that go to charity at a client's death" 
When:  Thursday, October 26, 2017 from 1-4 pm
Where: The Gillette College Presentation Hall, Gillette, Wyoming
CISP, CRSP, CTFA, CLE & CPE continuing education credits available
Registration deadline is October 23, 2017

Conrad Teitell is known throughout the United States for his ability to translate complicated laws into understandable English. He has lectured nationwide and on PBS television programs on taxes and estate planning.  Conrad, along with Warren Buffett, was an invited witness who testified at the U.S. Senate Finance Committee hearing on federal estate tax revision.
Registration is required to attend this lecture. Registration deadline is October 23, 2017.
If you would like to register online, please go to the Donate page and follow these directions:
The amount is $50.00 per person.
Where it states, Please make my gift to: use the drop down menu and select Established Fund (the last selection).
Then, where it states Additional Comments: please enter Conrad Teitell lecture
Continue filling out the form, press Continue, and you will be able to pay for your registration using Paypal.  You do not need to have an account with Paypal to use this feature.
Or you can contact Sheridan College Foundation at 307-674-6446 ext 4303 to make other arrangements.
        This lecture is sponsored by First Interstate Bank Wealth Management, Gillette College Foundation,
                         Sheridan College Foundation and Cypress Capital Management, LLC