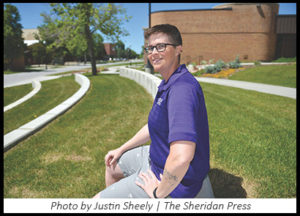 Ann Storey, Sheridan College Alumna and current employee at Sheridan College, was recently honored by the Sheridan Press as one of Sheridan's 20 Under 40.
According to the Press,  the 20 Under 40 are "the young professionals who go above and beyond. From an impressive list of nominations, a panel at the newspaper selected the community's most innovative executives, politicians, sportsmen, entrepreneurs, artists and up-and-comers. These young leaders contribute to the community in their personal and professional lives, ushering Sheridan County into the next generation. The Press staff interviewed each of the nominees, diving into their past and present to uncover what they bring to the table."
Click Here to read the Sheridan Press' interview with honoree Ann Storey.
Sheridan College is proud of you, Ann!