Zane and Shelby Garstad – a Legacy of Coming Home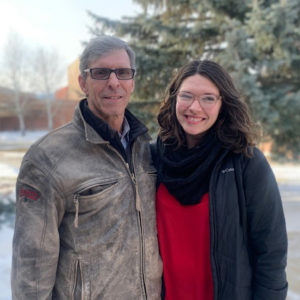 Feels comfortable, like home…. That's how both Zane and Shelby Garstad describe Sheridan College. Zane '85 and daughter Shelby  '13 took different paths to get to Sheridan College, but both agree on what brought them back to work for their alma mater.
Zane grew up rodeoing in Canada. He was a first generation high school and college graduate. His father did not understand why he would want to go to college when he could rodeo right out of high school.  Seeing his father work hard all his life and not have much to show for it "other than broken bones and bruises" made Zane determined to seek something more.
He got his chance when a friend that was attending Sheridan College put him in touch with Pat Hamilton, the Rodeo Coach at Sheridan College. She arranged for a rodeo scholarship for Zane and his life was forever changed.
When Zane arrived in Sheridan, he was immediately struck by how friendly everyone was. He explained, "I loved Sheridan. Everyone looked you in the eye and said hello. I knew immediately I wanted to live here."
It wasn't easy for Zane at first. His coach and his instructors helped him learn to focus and understand how to study. "I wasn't a great student at first – they gave me the confidence to succeed, to realize that I had potential", he said.
He completed his education at the University of Wyoming in '87 and then worked for a few years. Always looking to come back to Sheridan, he accepted a job as Rodeo Coach for Sheridan College.  "It felt like I was coming home – Laramie was ok but Sheridan was the place I wanted to be for the rest of my life." A few years later he started working as an admissions councilor for Sheridan College and is currently the Director of College Services.
His daughter Shelby originally did not want to come to Sheridan College "just because my parents wanted me to go there." However, reality set in and she soon realized a college education cost money that she did not have. "Sheridan College was affordable and I was granted several scholarships."
After her first year, she decided to try something else. "I did not have my act together and wasn't sure what I wanted to do. So I took one or two classes a year and worked while I tried to figure it out."
A few years later, she had enough credits to graduate with a General Studies degree. "My instructors were all great. When I first came, I failed as a student. They helped me learn how to be a student, allowing me to grow up. They never gave up on me – they believed in me long before I believed in myself!"
Shelby went on to graduate from the University of Wyoming, subsequently earning her Masters in Social Work. When an opportunity opened up at Sheridan College as a Counselor, Shelby jumped at the chance to come back "home".
"It was amazing to come back and see that all of the wonderful instructors that were here when I was a student were still here. It really felt like a homecoming!"
As an employee of Sheridan College, Shelby said that not a day goes by that she hasn't wanted to be here. She loves being part of a team that helps students, like the student she used to be, see the potential in themselves so they too can succeed.
Both Zane and Shelby agreed that their favorite thing about Sheridan College is the wonderful people who make it the great school that it is. Zane explained "People here care about each other, whether it is students, employees or the community at large." Shelby added, "Coming back here is like coming back to your family. You may have made mistakes, but they always knew you would succeed in the end. They allowed me to grow up and welcomed me back home!"