Val Burgess – 2009 Distinguished Alum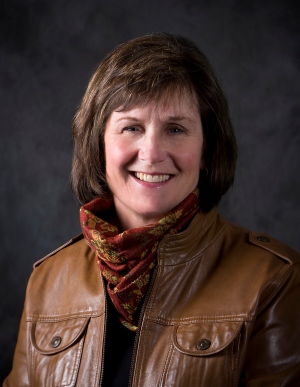 Val Burgess has been a Sheridan College student, instructor and supporter. Val earned her first degree from Sheridan in 1974 with an Associate's of Natural Science. In 1976, she added an Associate's of Dental Hygiene degree. During her time at Sheridan College, Val was a cheerleader, a Homecoming Queen, a member of student council and yearbook editor. Val's roommate, Jan Quarterman remembers "Val was always an independent thinker who never followed the crowd but "took the road less traveled." She is creative, ambitious, enthusiastic, upbeat and always a pleasure to be around."
Val continued her education at the University of Denver where she graduated cum laude with a Bachelor's of Fine Art in Communication Design in 1988. She brought that education back to Sheridan College where she worked as a graphic designer in the Instructional Technology Department doing marketing for the college. Burgess was the yearbook advisor, taught a practicum in graphic design and photography and was a co-advisor for Phi Theta Kappa. For seven years in the 1980s Burgess taught beginning and advanced photography.
Val left the college to work as a graphic designer eventually starting her own company Burgess Design Group, a graphic design, advertising, public relations, and marketing firm serving clients on a local and regional level. She is also an accomplished artist. She has been featured in several exhibits, including a one-woman show at Sheridan College.
Building on a family experience, Val became an oral historian specializing in the histories of former World War II prisoners. She has collected more than 130 oral histories of Americans held by the Germans at Stalag Luft III. Val is sharing the information she has collected through an educational website she is currently developing. Closer to home, as part of the College's 60th Anniversary celebrations, Val collected oral histories from 20 College alumni and faculty. These histories will be featured in this issue and future Foot Notes and become part of the College's archives.
Val has served her community through membership in many regional, state, and local organizations including board membership on the Wyoming Women's Foundation and Whitney Benefits Foundation board. She is happily married to Jerry and has two wonderful children, Dane who lives in Bellingham, Washington and Emily who attends the University of Wyoming.
Val continues to generously share her education, experience, and time with the community and Sheridan College. She represents Sheridan College Alumni well.For her outstanding support to the college Val was chosen as the Sheridan College 2009 Distinguished Alum and was invited to deliver the keynote address at graduation.