Trevor Larson '92 – Building his Future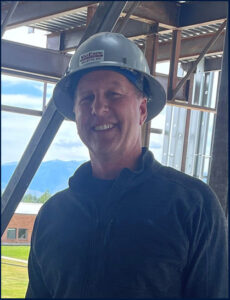 Trevor Larson  didn't know what he wanted to do with the rest of his life… but since his parents were both teachers, he thought Secondary Education was a good choice for a major in college. Little did he know, his life would lead him in a different direction.
Recruited to play basketball at Sheridan College by Coach Bruce Hoffman, Trevor remembers his days at SC fondly. "I wished Sheridan College had been a four-year school. I would have happily stayed here for all four years."
Trevor explained that the community atmosphere at Sheridan College made it a welcoming and comfortable place to go to school. "The close relationships I had with my fellow students – especially my teammates and Coach Hoffman – I am still in contact with so many of them."
After graduating from Sheridan College with an Associates in Secondary Education, Trevor attended Black Hills State University, where earned a Wellness/Fitness Management degree. He followed that with graduate studies in Business Administration.
However, he was destined to follow a different path. Trevor picked up some valuable construction skills as he was growing up from helping his dad frame buildings during the summers. He used those skills to pay his way through college.
By the time he went to Black Hills State, he had married his high school sweetheart, Darci, and had started a family. The church he attended needed construction workers to help build churches, and, having a young family to support, Trevor joined the crew and started on his path in the construction business.
After seven years of building churches in multiple states, Trevor found a job with Van Ewing Construction in Gillette, Wyoming, and within a year was managing projects for the company.
Over the next eighteen years, Trevor worked his way up to becoming Vice President of Van Ewing Construction, and is currently the project manager of the new Health Science Building on the Sheridan College campus. Van Ewing Construction is also in the process of establishing a branch office in Sheridan, which Trevor will be managing.
Their kids now grown, he and Darci have decided to move to Sheridan permanently. "Sheridan is just a great place to be. I still see lots of people in town that I knew when I was going to college here."
With another year of work left on the Health Science building and other projects on the horizon, Trevor is happy with the path his life has taken. Darci has opened Kids Academy Early Learning Center, an early childhood center in Sheridan, and they recently bought a lot where they hope to build a home soon.
Who would have guessed that thirty years after graduating Sheridan College with no idea about what he really wanted to do with his life, Trevor is back at Sheridan College and in charge of the construction of a brand-new Health Science building on the campus!