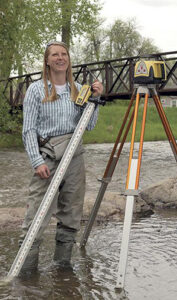 Tina Krueger has packed a lot of excitement and accomplishment into her 33 years on this earth. Her passion for the outdoors and nature was fueled early when Cheryl Harrelson, founder of Steady Stream Hydrology, a company that specializes in assessing and restoring river systems, visited her elementary school class. Intrigued, she went to work for Cheryl in the summers starting in middle school and throughout her college years.
Following her high school graduation, she attended Sheridan College for two years. She explained that "Sheridan College gave me the opportunity to experience college in a setting that was not intimidating.  The university and jobs were not as intimidating after I graduated from Sheridan!"  She then headed to the University of Montana to obtain a bachelor's degree in Biology.
Following graduation, Tina went to Mexico to work at an orphanage, then flew to Australia to spend a year backpacking and exploring. Central America was next, and she spent two weeks volunteering at health care clinics in Belize and Panama.
Upon returning to Sheridan, Tina was contacted by Cheryl Harrelson, who convinced her to come back and work for her. Tina agreed, and for the next seven years she learned all aspects of the business. At that point, Tina felt ready to take over the business and purchased Steady Stream Hydrology from Cheryl.
Her company, located in Sheridan, provides comprehensive management of rivers, watersheds, and riparian areas nationwide, and works with federal agencies, private landowners, contractors, and the public. Tina mentioned that she was thrilled that not only was she able to buy the company from her mentor, doing a job she loves, but she was able to do it in her hometown of Sheridan.
In her spare time, Tina volunteers regularly at Holy Name Catholic Church, with Joey's Fly Fishing Foundation, at the Sheridan Soup Kitchen, and with service dog programs. Tina's entire life has revolved around giving – to the rivers and watersheds that she helps to restore, and to all the people she lends a hand to in her volunteering activities. Tina has truly captured what it means to live a full and meaningful life!