The Honorable Fred Dollison – 2012 Distinguished Alum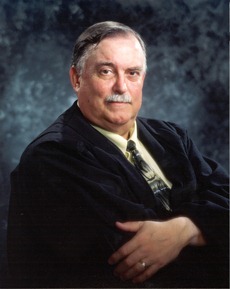 The Honorable Fred Dollison, Judge of Wyoming's 6th Judicial District, is an outstanding credit to Sheridan College. He intuitively combines compassion with objectivity in his adherence to the law, revealing his respect both for others and for laws which must be applied dispassionately to all. He is proof that Sheridan College can attract and educate the best and the brightest, remarked Lynn Mavrakis.
Fred Dollison enrolled at Sheridan College in 1973, newly released from 6 years of military service. At SC, Fred earned honor books in Humanities and Social Science, served on the Student Senate, played intramural sports, was a member of the Chess Club, Phi Theta Kappa, and Veterans' Club, all while working nights as the Head Custodian in the Whitney Building. After graduation Fred transferred to the University of Wyoming, earning a B.S. in Political Science, with honors and was inducted into Pi Sigma Alpha (The National Political Science Honor Society), Phi Beta Kappa, and Pi Sigma Alpha honors societies. Fred continued his education with a J.D. degree from the College of Law in 1980. After graduation Fred moved back to Sheridan and joined the firm of Badley, Rasmussen and Shoumaker. In 1985 Fred started a solo practice which continued until 1990 when he formed a partnership with Mike Shoumaker. A year later their partnership joined with Virgil Kinnaird and Rene Botten to form Northern Wyoming Law Associates and continued in practice until January 2002, when he was appointed as the first Circuit Court Judge in Crook County, Wyoming. In January 2003 became the Circuit Court Judge in Weston County, Wyoming. Fred's achievements are impressive by all standards. He represented Sheridan County School District #2 for 9 years and was a member of the National Association of School Board Attorneys, The Association of Trial Lawyers of America, The National Organization on Legal Problems in Education, as well as serving in all offices of the Sheridan County Bar Association.
Fred was active in his church; he taught the youth confirmation class and served as an elder on the governing Session. Fred made time to be involved in many local civic organizations and even share his knowledge of the law as an adjunct faculty member at Sheridan College.
Fred married Cheri in 1972 and together they have raised a wonderful child, Erin. Erin and her husband Mark Nitschke are both currently employed at Sheridan College. It seems the whole family has been employed at the college in one capacity or another. Cheri was administrative staff and managed the bookstore, while her father (Harold Gilbert) was one of Sheridan College's first agricultural faculty members. When asked about Sheridan College and its value in his life Fred stated "Sheridan College gave me a solid foundation upon which I was able build my life and career."