Sheriff Allen Thompson '96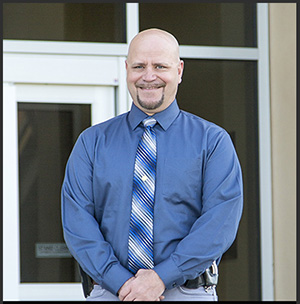 Allen Thompson's passion is serving others. An Army veteran, Sheriff, teacher and volunteer, he finds personal satisfaction when he can make a difference in other people's lives.
Thompson enrolled at Sheridan College after serving two years in the U.S. Army and majored in Police Science. As a student, his passion for law enforcement bloomed and he knew he had found the perfect career.
"I found my courses at Sheridan College so interesting, especially the law procedure and the scientific side of it," he said. "When you get to college and sign up for classes you're interested in and not just what you're required to take, it makes learning fun."
Thompson served in the Wyoming National Guard while he was a student at Sheridan College, and in 1995 he was selected as the National Guard Soldier of the Year for the entire United States. He graduated with honors in 1996 and began his law enforcement career with the Sheridan Police Department in 1998.
The first few years he worked uniform patrol and trained new officers, eventually being promoted to patrol sergeant. In 2006, Thompson accepted a position at the Sheridan County Sheriff's Office. He rose up through the ranks and became undersheriff in 2017. When Sheriff Hofmeier retired in 2017, Thompson was selected to serve as the Sheridan County Sheriff through 2019.
Originally from Fromberg, Montana, Thompson had a good relationship with law enforcement growing up. Those role models helped inspire him to go into the field.
"I remember one cop that always took the time to talk to us, human to human. It was neat to see cops have a positive influence in the community," he said.
As Sheriff, Thompson strives to replicate the type of policing he experienced growing up in Montana. He says working in Sheridan County lends itself to the community-service type police work he finds appealing.
"You have to be confident in your abilities and very conversational with the people that you're dealing with. Helping someone who has been victimized or catching someone who has been causing hate or discontent in the community is so rewarding to me," he said. I like to connect with people and help them on what is probably one of the worst days of their lives."
Thompson met his wife Cori while both were students at Sheridan College. They decided early on to make their life and raise their family in Sheridan. Thompson says there is no other community he would rather serve.
"As a student at Sheridan College, you get involved with the community too.  After graduation, the connections you made don't go away.  Sheridan College helped me find the career and the community for me, and I couldn't be more grateful."