Sharon Elwood – 2017 Distinguished Alum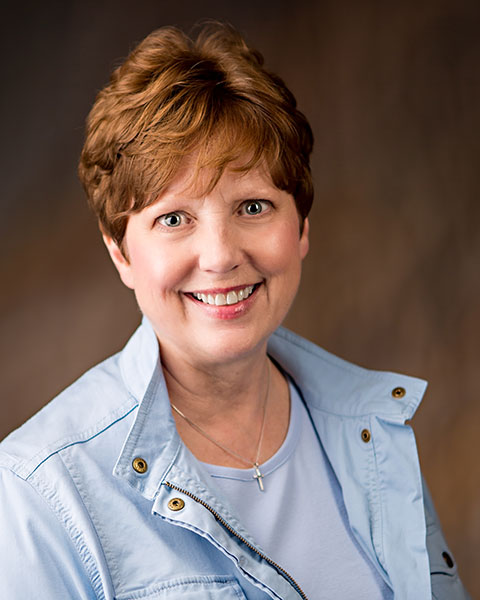 Whether it's woodworking or welding in her spare time, spending time with her parents or children and grandchildren, or working on mapping intricate data about the Northern Wyoming Community College District, Sheridan College's 2017 Distinguished Alumni Sharon Elwood has always given the task at hand her all. Most recently, Sharon served as Dean of Enrollment Services for Sheridan and Gillette Colleges, from August of 2010 until her retirement this spring.
"Sharon is one of the chief reasons that the college is as successful as we are today," Dr. Paul Young, NWCCD President, says. "Over many years, her non-stop energy and passion for students has powered positive change to improve our systems for recruiting, registering, advising and numerous other areas as well."
The Sheridan College Distinguished Alumni Award is given to a graduate who exemplifies the college mission by assisting to create student success and making a difference in the community to create educational leadership.
For decades, Sharon has prided herself in efficiently producing data that proves, among other important things, two points: That there is a tangible way to track student success, and that there are numbers that show Sheridan College is a worthwhile recipient of taxpayer dollars. "You have to be able to tell a story. Numbers help you tell that story," Sharon says.
Sharon Elwood was born and raised in Powell, Wyo., by salt-of-the-earth parents who ran a gas station, a tire shop and other small-town businesses in rural 1960s Wyoming. "My folks were business people, and they instilled a very strong work ethic in me," Sharon says.
After retiring, Sharon plans to split her time between her parents, who still live in Powell, and her children and grandchildren in Laramie and Gillette. Her father, Sharon says with pride, will be 90 in May. "For as long as I can remember, my father was a self-employed person, and he maintained an inventory and kept books," Sharon says. "I learned to keep books as I grew up, and it evolved into what I do now."
An aptitude test in high school once told Sharon she should work in a warehouse—but in a way, that makes sense, she says. "My computer is my warehouse, and all this very important data is my inventory," Sharon, who has excelled in academia, says.
Sharon moved to Sheridan in late 1979, earning an associate of science degree from Sheridan College in the fall of 1985, followed by an associate of arts degree in the spring of 1992. She was a non-traditional student with two children in elementary school, and she knew college was a privilege. "College became the place where my work ethic, perseverance and pride in my work, where those core values that my parents taught me took hold," Sharon says.
Sharon attended the University of Wyoming on a president's scholarship and graduated from the College of Business in 1994, completing two years of schooling in one year, with her two children, Heather and Brien, in tow.
"Being a single mom and finishing school, and even continuing on to get her master's—she really showed us the importance of sticking with your education, no matter what was going on in life," says Sharon's daughter Heather Jacobson, who works for Laramie-based Trihydro Engineering and Environmental Consulting. "She also showed us a dedication to sticking with a company or institution that you love, like she has with Sheridan College," Heather says.
Sharon was part of the inaugural MBA class to receive instruction via compressed video at Sheridan College, and completed her master's degree in 1996. She was a member of Phi Theta Kappa at Sheridan College, and Phi Kappa Phi and Beta Gamma Sigma at UW. She was named Outstanding Senior in 1994 and Outstanding Graduate Student in 1996 for the UW College of Business.
In the 1980s and 1990s, Sharon held titles at Sheridan College like Director of Institutional Research—the first position of its kind at any Wyoming community college—and MIS Coordinator, gathering data for the college president and other executive committee officials. In 2005, Sharon became actively involved with the accreditation process, working with the college president in the development of a shared governance system.
Jason Browning, Sheridan College's current Director of Institutional Research, explains that institutional research is a relatively recent discipline in higher education. It is entirely about providing quality, timely and relevant information to help vested parties understand what is happening at the college.
"Sharon has been heavily involved at the state level with the data governance and Institutional Research Council at the Wyoming Community College Commission, where she has participated in the creation of statewide reporting initiatives," Browning says. Historically, the institutional research function was focused on compliance reporting, ensuring that enrollment and completion data were reported to federal and state authorities. As budgets declined and demands increased, institutional research transitioned from merely compliance to a strategic planning function.
Legislators, the public and even students want to know educational institutions are accountable to high standards, and with performance-based funding in the picture, accurate data is crucial to Sheridan College's mission. Institutional research now endeavors to pull, prepare and analyze data that will help the NWCCD executive team make decisions about allocating limited resources, and to understand what is working and not working at the college.
"It was (former Sheridan College president) Dr. Steve Maier who made me an IR Director," Sharon remembers. Ahead of the curve, Dr. Maier wanted to know how many majors were in a specific discipline, how those students were doing and what the data Sharon had at hand meant—preparing Sheridan College for the coming data demand. "He said, 'I want to go to one place, and have one official set of numbers.' That really set the stage for us … and that is when we really became serious about data standards and data integrity,'" Sharon says. "From there, it just grew, and when Dr. Paul Young took over, the growth just continued.
"We have to be able to tell people that we have students in the programs they are supporting, and we have a need for scholarships in those programs," Sharon says. "We need to be able to say, 'This is what we are doing with the funds that you provide.'" Some people are "people-people," Sharon says, but she has always been a numbers person.
"I can figure out how to organize all the parts of something, and can see how how things fit together," Sharon says. "When I was young, young, young, my father had a business where he did tires. We kept track of all the tires on little cards. … It was fascinating to me.
"I used to tell my employees, 'This is your street. Each house represents a different file. If I live in this house, how do I go over to this house, and what unlocks that door? I have to have a key to one door, but how do I change my key to open your door? … My joy came from mentoring my own employees," Sharon says.
And for her employees, her career is an inspiration. "I have a great amount of respect for Sharon. When I started at the college back in the early 1990s, Sharon was an administrative assistant," Zane Garstad, Director of College Services says. "Over the years, through her hard work and dedication, she has reached senior level management status. Her career is an inspiration to everyone and especially to women in the workplace," Garstad says. "For me personally and professionally, Sharon is a supportive, caring, and conscientious leader. Our college is fortunate to have had a person such as Sharon as a part of our organization."