SC student named 2023 Hites Scholar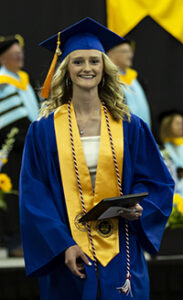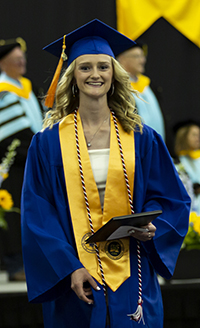 Landry May, a spring 2023 graduate from Sheridan College, is one of 15 Phi Theta Kappa members selected as a 2023 Hites Scholar and will receive a $10,000 scholarship for baccalaureate studies.
The Hites Transfer Scholarship is awarded to Phi Theta Kappa members who are preparing to transfer to a bachelor's degree-granting college or university. Winners were selected from among 2,700 applicants nationwide for their outstanding academic achievement and rigor, leadership accomplishments, and engagement in college and community activities.
The Hites Transfer Scholarship Program is made possible by support from the Hites Family Foundation and the Phi Theta Kappa Foundation. This is the largest scholarship Phi Theta Kappa awards to its members.
The Hites Family Foundation was established by Robert Hites, an executive with Ralston-Purina in St. Louis, Missouri, who, upon his retirement, became an instructor at St. Louis Community College. His brother, Ray Hites, served as President of the Hites Family Foundation and as a Trustee for the Phi Theta Kappa Foundation until his death in 2015. Ray's wife Jackie served as a Foundation Trustee until her death in 2019.
About Phi Theta Kappa
Phi Theta Kappa is the premier honor society recognizing the academic achievement of students at associate degree-granting colleges and helping them to grow as scholars and leaders. The Society is made up of more than 3.8 million members and nearly 1,300 chapters in 11 countries, with approximately 240,000 active members in the nation's colleges. Learn more at ptk.org.