Ryan Wright – 2010 Distinguished Alum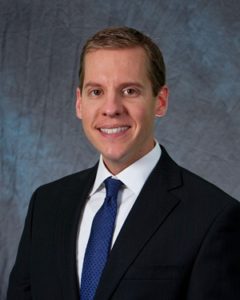 Ryan Wright began attending Sheridan College at 14 and is the youngest person to graduate from SC at age 17. Ryan didn't stop there; he was elected Trustee of Northern Wyoming Community College Board, 2004-05.
When selected as the Distinguished Alum and SC Ryan said that, "of all the awards I have received, the 2010 Distinguished Alum is the one I will cherish the most. I deeply enjoyed my time I spent at Sheridan College and the friendships I formed with faculty, staff and other students. I enjoyed the time I spent on the Speech Team with Ron Krikac, Lillian and Gene Sager, in English with Rebeeca Liebinger, and in Police Science with Rolf Distad. As a Trustee I made decisions that helped shape the direction of the college and it enabled me to give back to the institution I owe so much. I would not have achieved as much without SC."
Since graduating from Sheridan College, Ryan has excelled in the legal profession and has devoted much time to public service. He went on to study Political Science and Anthropology at Northern Arizona University, earning the distinction of summa cum laude. At Northern Arizona University, he was also an active participant in the Speech and Debate team, which prepared him well for the world of law and politics.
Returning to Sheridan, Ryan entered public service as an Elected Trustee of the Northern Wyoming College Community Board. In this position he was very active in serving the Sheridan College community, and today continues to retain close friendships with its professors. In 2005, having decided that the legal profession was a good conduit for his debating talents, Ryan entered the Georgetown University Law Center. While studying law at Georgetown, he also was a Staff Assistant for Senator Mike Enzi on the Health, Education, Labor and Pension Committee. Working for Senator Enzi allowed him to maintain ties with Wyoming and also garnered him valuable political and legislative experience at the federal level. At Georgetown, Ryan served as a Notes Editor on one of the law journals and also worked in a litigation clinic, advocating in the courtroom for low income tenants in disputes against their landlords.
Ryan graduated from Georgetown in 2008, earning the Dean's List honor in his final year. He currently practices in a litigation boutique in New York, focusing on commercial litigation. He enjoys the vast litigation experience that New York has to offer, but looks forward to returning to his hometown in the future. Debi Isakson, Alumni Coordinator at Sheridan College said, "It has been my sincere pleasure to get to know Ryan. He is a very diverse individual and excels at all he does. Ryan lives with passion and I know our graduates will be inspired by his commencement address."