Ryan Mulholland – 2013 Distinguished Alum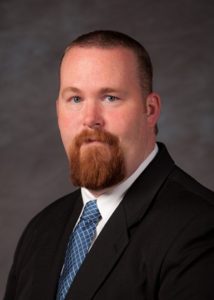 Ron Krikac nominated Ryan and had this to say, "I have known and admired Ryan for sixteen years, during which time I taught him in several college courses, coached his work with the Speech and Debate Team, and watched him grow from a college freshman to a successful businessman and outstanding community leader.
Ryan said that, ""Being selected as the Sheridan College Distinguished Alum is a humbling honor. My time at Sheridan College is very important to me as it was the primer to what would become my future in this community. From my wife, whom I met my first day at Sheridan College, and my family, to my deep love for and involvement in this community. On a personal level, being selected as Sheridan College's Distinguished Alum is confirmation that I have had some positive impact. To be certain, Sheridan College has had a significant impact on me."
Ryan enrolled in Sheridan College in 1997 and became one of the most successful competitors on the Sheridan College Speech and Debate Team. According to Ron Krikac, the squad competing in 1997-98 was in a number of ways the strongest team in our history, winning nine national championships that season. At the 1998 Novice National Tournament, Ryan and his partner won third place in Parliamentary Debate; Ryan won third place in Impromptu Sales; and he was named the top individual debater at that national tournament.
After leaving college, Ryan began earning recognition for his work with the Sheridan County Sheriff's Office. Eventually he became Commander of the Sheriff's Tactical Team. When he left his position, retiring as a full sergeant, he had received three letters of commendation for his outstanding work, and he had received a plaque from the United States Department of Justice for his investigations of drug cases in Sheridan County.
In 2009 Ryan was elected to the City Council from Ward 1 and served in that capacity through last December. He has been actively involved in promoting economic development and job creation in the city; he has also served on the Travel and Tourism Board, the Recreation District Board, and briefly on the "Forward Sheridan" Board. This spring he began serving on the board of the North Main Association. Praising Ryan, Sheridan Mayor Dave Kinsey remarked, "Ryan is an example of educational opportunities bestowed by Sheridan College. His public speaking, logic, and critical reasoning skills, honed at Sheridan College, have served this community well."
Ryan's achievements are impressive by all standards. As a successful businessman, Ryan is the founder and CEO of the Ptolemy Group, a data processing and security center with the capacity to serve clients globally. The company's new 6,000 square foot facility in Sheridan opened last September. At capacity it could employ 100 people. It's an exciting and innovative concept that will surely have an impact on Sheridan's future.
For all these accomplishments, Ryan has already won national and international recognition. In June 2011 he was awarded the Harold C. Keller Public Leadership Award from the John C. Stennis Center for Public Service Leadership in Washington, D. C.
In the years since leaving Sheridan College, Ryan has not forgotten his "roots" and unselfishly has continued to serve the college and the area's regional speech and debate community. In 2011, as the alumni representative, he addressed the President's Partners. On a number of occasions he's returned to his alma mater to help prepare speakers for various competitions. He's been a source of information and inspiration to students who have followed him in the school's tradition of excellence. He's also helped prepare Sheridan High School students for national speaking competitions.
Ryan married Sarah in 2000 and together they have three amazing children, Grant is 7, Sammie is 4, and Kimber is 1.
Debi Isakson, Alumni and Community Engagement at Sheridan College said, "I believe Ryan Mulholland's outstanding achievements and his attitude of giving back to the communities from which he's benefitted mark him as richly deserving the Sheridan College Distinguished Alumnus recognition for 2012-2013."