Maison Furley – Perseverance Through Challenges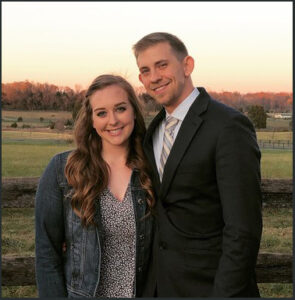 Maison Furley's personal story speaks to the power of community college education to change lives. Currently working to help Sheridan Memorial Hospital navigate its way through the COVID-19 pandemic, Maison credits Sheridan College as being a springboard to his current success – despite great personal challenges.
At just 16 months old, Maison was diagnosed with cancer. He responded well to medical intervention and remained in remission until 2007.  As a teenager, Maison again battled cancer successfully, completing treatment for a second time while finishing high school and earning his Associate's degree at Sheridan College.
He explained, "Sheridan College was the perfect bridge from Wyoming high school to a university setting. Sheridan College offers an opportunity to adapt to the increasing responsibilities associated with entering higher education without quite the risks: affordable cost of attendance, affordable housing, nurturing professors, small class sizes. Sheridan College is a wonderful example of what is possible with a community that is willing to invest in the future by providing amazing facilities, resources, and opportunities to the school and its students."
After finishing his degree at Sheridan College, Maison earned his Bachelor's of Science from the University of Wyoming and then his Master's in Toxicology from Colorado State University. Following graduation from Colorado State, Maison took a job at Sheridan Memorial Hospital while applying to medical school.
The staff at Sheridan Memorial Hospital quickly recognized that Maison was a high achiever and promoted him to the Utilization Review specialist role, where he has learned medical and legal language. Maison said that he currently works to monitor excessive resource usage related to COVID-19. Additionally, he ensures that the hospital maintains its excellent practices to guarantee that medical necessity is met and to avoid financial fall-out after the pandemic has come to an end.
Maison is very appreciative of his time at Sheridan College. As a first generation student, he had to forge his own way from day one. "My path to medical school was a bit obscure and long, but the unanticipated experiences groomed me for a successful and diverse future. I got married at 21 and have a beautiful growing family. I was able to buy a 100-year-old home and completely rehabilitate it into a two-unit income property. I obtained a Master's degree, discovering a passion for quantitative analysis and making life-long friends. Really, it is the failures and unexpected detours that have made me who I am."
He said "I am proud to be a Sheridan College alum and I hope that my story reaches someone in need of a little motivation. Hearing about other relatable success stories throughout the years reminded me that I am capable of achieving my goals."
Maison will begin the next phase of his career soon as he has been accepted to medical school at the University of Washington and will begin his studies this fall. "At the end of the day, medical school was the product of nearly a decade of post-secondary education; I am thrilled to have reached this point. This is only the beginning for me."
Maison's Sheridan College family is very proud of this outstanding, hard-working and deserving young man!