Like mother, like daughter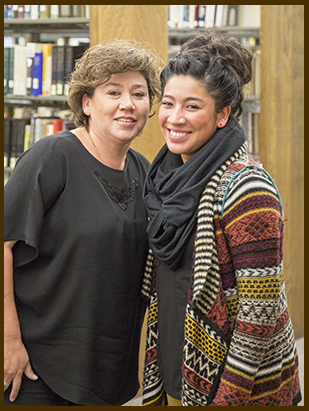 May 12, 2012 was a special day for Maria Montano and her daughter Heidi. That day, they both walked across the stage at the Bruce Hoffman Golden Dome and received their diplomas from Sheridan College. Both women say they got there with the support of their family. "We're a team," said Maria. "We take turns supporting each other."
Maria, who was born in Mexico, met Mario, a Mexican teacher, when she was 18 years old and already a U.S. citizen living in Texas. When they got married Mario immigrated to the United States and they decided to move to Sidney, Montana, to start their family. Mario's goal was to become a teacher in the U.S., but there was just one problem – he didn't speak English. "Education has always been a focus in our family. It was always understood that all of us would go to college, no matter how difficult it was," said Maria.
In Sidney, Mario's dream of becoming a teacher faded as he struggled to learn English and support Maria and their two daughters, Ada and Heidi. For 10 years, he took an English lesson once a week at the local library and worked various jobs, as a field laborer, meat cutter, and he and Maria even started their own restaurant. In 1998, he was selected as ESL Student of Year from over 700,000 students. That was when Maria knew they needed to do whatever it took to put Mario through school.
"Even though the restaurant was making good money, our girls were little and they needed us," said Maria. "The award was like a sign that Mario really was supposed to be a teacher." He was accepted to Dickinson State University, so the family moved to North Dakota so he could go to school full time. Because Mario still struggled with English, he brought a tape recorder with him to every class and played the recordings for Maria at night. They would spend hours at the kitchen table, going over each class in detail to make sure he understood the material.
"To see them work together as a unit was just amazing," said Heidi. "My parents always did everything they could for my sister and I. Even though we were living in extreme poverty, my sister and I were always clean, we always had food and we were never homeless."
In 1999, Mario accepted a full-time job as a Spanish teacher at Sheridan County School District 2, and they moved to Sheridan. After that, everything began to fall into place for their family. For Maria, the fact that Sheridan College was in her hometown meant that she could still work, take care of her family, and take classes toward her associate degree.
But as a non-native English speaker who had been a stay-at-home mom for over twenty years, there were times Maria doubted her ability to complete her degree. "One time I came in crying half way through the semester and told my instructor I couldn't do it," said Maria. "But she wouldn't let me quit. She told me the college would do whatever it took to help me finish."
For Heidi, Sheridan College was there for her when she decided she wasn't ready to make the transition to a four-year college. "I was welcomed at Sheridan College with open arms," said Heidi. "It was a much more personal experience than I had at any of the other schools I went to. Plus, financially it was just a much better option."
Since their graduation day in 2012, both mother and daughter now have successful careers. Heidi received her master's degree and is now a licensed clinical social worker at the Sheridan VA Medical Center and an adjunct instructor at Sheridan College. Maria works at Holy Name Catholic School as a Spanish teacher and librarian.
"So many people supported our family along the way," said Heidi. "Now my mom and I get to work with people every day and support them on their path to higher education and a better life."