Larry Ligocki truly embodies what it means to be a lifelong learner. Now a business teacher and Lady Bronc head basketball coach at Sheridan High School, Ligocki's passion for teaching is contagious. As a kid growing up in Sheridan though, he never dreamed he would become an educator.
The game of basketball helped him eventually realize he had a passion for helping young people shape their futures in a positive way. He attended Sheridan College on a basketball scholarship after graduating from Sheridan High School in 1989.  Ligocki's years at Sheridan College planted the seeds that would eventually lead him to a career in education. He met his wife, Kim, a dental hygiene student from Wheatland, while there and played basketball for  legendary coach Bruce Hoffman.  "We had a great time at Sheridan College, and I still value the friendships I created there," he said. "Bruce was a wonderful mentor and really taught me what it means to be a good coach and teacher."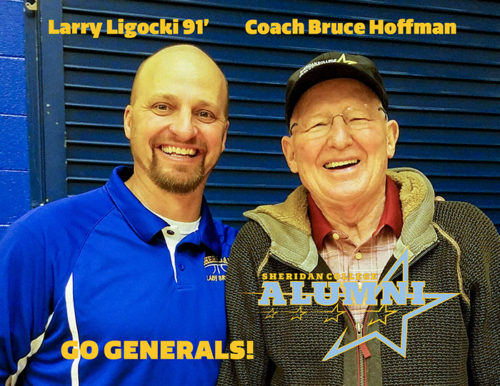 Ligocki graduated in 1991 with his associate degree and then transferred to the University of Wyoming to pursue his bachelor's degree in Agriculture. He credits the affordability of Sheridan College with his ability to graduate from UW with no debt, something that made a positive impact on his life.
After he graduated from UW, Ligocki moved back to Sheridan with his wife to start the cow/calf operation that he still manages today with his father and start their family. He ranched full time for several years before deciding to pursue his Masters of Business Administration at UW to broaden his career opportunities.
While he was getting his master's degree, his friend Nathan Mullinax, the owner of Mullinax, Inc., asked him if he would help him with his growing business. He started working there part time in addition to ranching and helping raise his young daughters Hailey, Molly, and Katie. After completing his master's degree, he took over much of the gravel mining operation for Mullinax.
While working at Mullinax, he supervised men in their late sixties who were getting ready to retire. At the same time, he had begun coaching his young daughters' basketball team.  "I was working with guys at Mullinax who were seniors and coaching youth at the same time. The contrast between those two really made me understand how important teaching young people long-term financial planning was, because you couldn't make up for lost time."
With that, he made the decision to become a teacher. Ligocki continued working at Mullinax while he got his education degree through an alternative program at Chadron State, his fourth degree. In 2011 he landed a job at Sheridan High School and has taught there ever since.
His favorite class that he teaches is a personal finance course where students learn the basics of saving, budgeting, investing, and planning for retirement. He stresses the importance of avoiding debt, especially with the decision of where to attend college.  "I tell students it's important to look at the cost of a degree, compare that to the median salary in that field, and then see whether or not that school is a good return on your investment," he said.
He also uses real-world experiences from managing his ranch and his time in the business world to bring lessons to life for his students. What seemed preposterous to him as a young person is now a rewarding career. Ligocki says the best thing about being a teacher is when former students tell him how his classes have helped them succeed in life.
"I had one student come back and tell me he just wrote a check for his first year at Sheridan College, and he was able to do it himself because of what he learned in my class – that's rewarding," he said.