Ken Thorpe – 2015 Distinguished Alum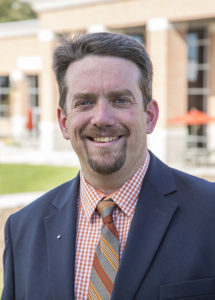 Amy Albrecht nominated Ken Thorpe and said "Ken demonstrates an absolute dedication to community service. And when I say dedication, I mean it in the purest sense of the word. Ken Thorpe is far too much of a perfectionist and hard worker to become involved in anything to which he is not 100% devoted."
Thorpe graduated with a degree in music in the early 1990's, under the mentorship of Gib Leibinger, the late, well-respected Sheridan College faculty member. As a student of Gib, Ken was an enthusiastic member of General Delivery show choir and traveled all over Wyoming and Montana. Their performances allowed him to demonstrate his love for singing and dancing while encouraging high school students statewide to go to college and cultivate these same passions. Ken was also a member of Student Council at Sheridan College.
Thorpe is the manager of Powder River Heating and Air Conditioning and helped establish Sheridan College's Heating, Ventilation and Air Conditioning (HVAC) program, a four-year academic path born from collaboration between the college, the community and local businesses. Thorpe is an adjunct instructor in the program.
In 2013, Ken and his employees were the recipients of the Sheridan County Chamber's Spirit of Sheridan award for their unified contributions to the Food Group of Sheridan. Ken is an active Chamber member, having served as a Board of Director, an Ambassador, and the Chair of the Business Expansion and Retention Committee.
Because of Ken's strong community leadership and his excellent business values, he has been recruited by many organizations to volunteer his time, talent, and skills. Projects like Christmas in April and Habitat for Humanity allowed Ken to use his extensive construction skills. His love for the performing arts led him to participate in the CiViC Theater Guild, serving in nearly all capacities from board member to board president to director of productions to helping rebuild the entire stage in the Carriage House Theater.
Ken also serves on the boards of the Center for a Vital Community at Sheridan College, The Food Group and Big Horn Homebuilders. His membership and proud involvement in Sheridan Mason's Lodge #8, York Rite and the Shriners have been long-standing and continue.
Ken had this to say about being selected as this year's Sheridan College Distinguished Alum, "As I look at those before me who have received this award, I am humbled. It is an honor to be in such excellent company."