Destefano Family Builds Sheridan College Legacy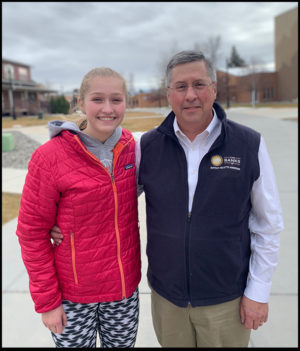 When Darold Destefano graduated from Sheridan High School in 1981, he knew without a doubt he wanted to go to Sheridan College.  "Sheridan College offered a high quality education at a very reasonable cost in the town where I wanted to live, work, and probably raise a family someday, so I didn't even look at any other colleges," he said.
With the help of a generous scholarship and a small loan from the Perkins Foundation, he graduated with his Associate of Arts degree in Business in 1984 almost debt-free. He believes the education he received and the connections he made at Sheridan College led to the successful career he was able to build in Sheridan.  "It was close knit, so you got to know a lot of community members and your instructors on a personal level," he said. "I would definitely not be where I am today without those connections and my instructors who were willing to write recommendations for me."
Darold's Sheridan College education led him to jobs in commercial insurance, investing, estate and trust administration and lending. He worked his way up in the local financial industry and now serves as president of The Bank of Sheridan, all with his Associates degree.
Now, 36 years after her dad started his first year at Sheridan College, Jillian Destefano is enjoying her first semester as a student. She is passionate about medicine and is studying Molecular Biology to one day become a Physician's Assistant.  Even though the campus looks a lot different now than when her dad was a student, Jillian's experience so far has been similar.  "I received a lot of scholarships, so coming to Sheridan College for these first two years will definitely save me a lot of money," she said. "I also really like the people I've met and how all my instructors are here for me if I need help. Since the classes are so small, I feel comfortable asking questions."
Sheridan College may have grown in student population and in its infrastructure since 1982, but it is clear that the heart of the institution remains the same – quality education, affordable price, and it feels like family!